Tamilnadu Temples

Popular Temples in Tamilnadu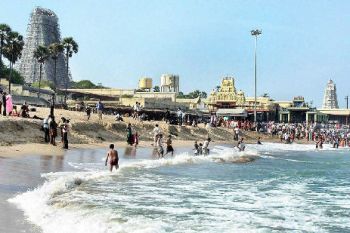 Tamilnadu temples are famous around the country as well as abroad. People from all over the word visit here. Tamilnadu temples are in the list of must visit destinations of most of the tourists who visit India. These ancient temples are built in Dravidian style and they are adorned with inscriptions from Hindu epics. The ancient kingdoms who ruled this part of India like Chola and Pallavas are the makers of these temples.
Great living Chola temples like Brihadeeswara, are magnificent treasure houses of art. The magnificent Shiva temples at Gangaikodacholapuram, Darasuram and Thanjavur are collectively called the "Great Living Chola Temples" with UNESCO World Heritage Site status.
The best time to visit is in the morning as early as possible, or in the evening when the ground is relatively cool. As with all Hindu temples, footwear must be left outside.
These are some of the popular Tamil Nadu Temples.

Thanjavur Brihadeeswara Temple  (Chola  temple)
Airavatesvar Temple Darasuram  (Chola temple)
Gangaikonda Cholapuram Temple  (Chola temple)

Madurai Meenakshi Temple
Chidambaram Nataraja Temple
Thiruvannamalai Temple
Palani Murugan Temple
Srirangam Ranganathaswamy Temple
Thirukazhukundram Temple
Kasi Visalakshi Vishwanathar Temple,Dindigul
Cave Temples of Tamilnadu
Mahabalipuram temples
Ekambareswarar Temple
Kanchi Kailasanathar Temple
Kanchi Varadaraja Perumal Temple
Kanchi Kamakshi Amman Temple
Saneeswaran Temple 
Other temples of Thanjavur
Tiruchendur Murugan Temple
Rameshwaram Temple
Margabandheeswarar temple Vellore
Jalakandeswarar Temple Vellore 
Golden Temple Vellore
Parikkal Lakshmi Narasimhar Temple
Poovarasankuppam Lakshmi Narasimhaswamy Temple
Singrikudi Lakshmi Narasimhaswamy Temple 
Manakulam Vinayagar Temple, Puducherry
Namakkal Narasimhaswamy Temple
Namakkal Anjaneyar Temple
Kodumudi Makudeswarar Temple, Erode 
Thirumohur Temple Madurai
(More will be added to this list)

To