Goa Attractions

Beach Tours Goa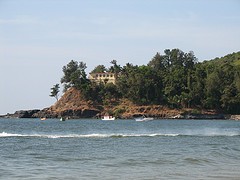 Photos courtesy: mckaysavage
View Larger Map
Goa Attractions - Goa is the smallest state in India in areas and fourth smallest in population, located on the Konkan coast, bounded by Maharashtra to the North, Karnataka to the East and South, and Arabian Sea forms its western coast. Goa exhibits influence of Portuguese culture. In India, Goa is one of the top tourist destinations of India.
Panaji also called as (Panjim), located on the banks of River Mandovi, is the capital city of Goa. Among the tourists, Goa tourism is very popular.
Over the centuries, Goa was ruled by many dynasties and later by Portuguese rulers. India took over this smallest state from the Portuguese colonisation in 1961, and became a Union Territory. On May 30, 1987 Goa became the 25th state of the Indian Republic.
Goa is known for the spectacular beaches and called as "Tourists' Paradise", and the beaches are the most important part of Goa attractions. One should not miss the Beach Tours in Goa. Some of the most popular Goa beaches are -
---
Goa Hotels
Goa Hotels
---
Apart from the Beaches, there are many other attractions in Goa such as ancient churches, Hindu temples, Forts, Museums and Art Galleries in Goa worth a visit.

Some of the ancient Hindu temples are -
Shri Shantadurga Temple
Mahadeva Temple at Tambdi Surla
Shri Bhagwati Temple Nav Durga Temple
Betal Temple
Saptakoteshwar Temple
Shree Mahalaxmi Temple
Shree Kalikadevi Temple
Hanuman Temple
Dattatraya Temple
Shree Devi Shravani Temple
Sapteshwar Bhagwati Temple
Sal Shree Vittal Mandir
Rudreshwar Temple
Mangesh Temple
Festivals of Goa 
Goans, a harmonious blend of different cultures,  celebrate a number of festivals every year. These are the main festivals. 
Christmas in December 
Food and Cultural festival is celebrated in November for five days.
Feast of Three Kings is celebrated in January every year.
Ganesh Chaturthi is celebrated in August-September and it lasts for 7-10 days. 
Good Friday followed by Easter
Sao Joao Festival, which is purely meant for sons-in-law, is celebrated in June.  
Shigmotsav festival is like Holi 
St. Francis Day in December 
From Goa Attractions - to
Home Page