Andhra Pradesh Palaces
Andhra Pradesh Palaces are very important monuments of South India.


Asman Garh Palace is located in Hyderabad and was designed and built by Sir Asman Jah, a noble belonging to the Paigah family and one time Prime Minister of Hyderabad. Asman Garh Palace is influenced by the castles of Europe.
Andhra Pradesh Hotels
The granite turrets and the arched windows are the specialties of the place. It is one of the famous palaces of India. The granite turrets and arched windows of Asman Garh stand atop a hill some distance ahead of the Hyderabad TV tower. It now houses an archaeological museum, and is a great monument of Andhra Pradesh palaces.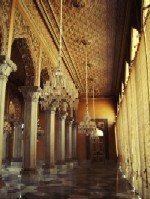 is located in the southwest of Charminar in Hyderabad. It was built in 1750 by the Asaf Jahis,and designed along the lines of the Shah's palace in Tehran. It consists of a group of palaces. Bathed in moonlight and a rich tapestry of words and music narrating the story of its past, Chowmohalla Palace in the old city shone with the glory and grandeur of the past.
Chowmohalla means four palaces. It consists of the Khilwat, Aftab Mahal, the Tahniyat Mahal and the Durbar Hall.

Falaknuma Palace is located in Falaknuma, 4 km south of Charminar at Hyderabad. The monument is situated on a hill of 2000 feet high, as a majesty testimony to the glory of the Nizams. It has often been referred to as the 'Mirror of the Sky'. 

It was designed by an Italian architect and its foundation was laid on the 3rd of March 1884,and was built by Nawab Vikar-ul-Umra, the fifth Paigah Emir. It took 9 years to complete the construction of the Palace. The palace has one of the most lavishly decorated interiors. The palace stands on a hill and looks magnificent with the shining white marble. It used to serve as a royal guest house for the rulers of Hyderabad.
The palace is laid out in the shape of a scorpion with two stings spread out as wings on the north. The main building is in the middle part and the kitchen and harem quarters stretch to the south. It has Louis XIV-style decor with a lavish Mughal ambience, Italian marble staircases and ornate fountains. This monument of Andhra Pradesh palaces attracts many tourists.
Its glass stained windows throw a spectrum of colours into the rooms. The palace has a library with a walnut carved roof, a replica of the one at Windsor Castle. The library had one of the finest collections of the holy Quran in India. 


Chandragiri Palace is located 11 Km southwest of Tirupati in Chittoor District of Andhra Pradesh. Chandragiri was once the Capital of the mighty Vijayanagar Empire rulers in 1600 A.D. Chandragiri is popular for the Chandragiri Fort. In addition, there are beautiful palaces.
This palace also houses a Museum, which displays the glorious art, treasures and trinkets of a bygone era.

Return from Andhra Pradesh Palaces to Andhra Pradesh