Things to do in South India
When you are vacationing in South India, you may wonder what can you do in this mystic land. There are many things a tourist can do here during your short stay.
Here is my list of Ten top things to do while you are in this picturesque land -
1. Go for a Back Water Cruise -
Taking a backwater cruise in Kerala Houseboat, through the shallow waters, munching something and enjoying the tour is a memorable experience. Check Backwaters Kerala for more information. 
 2. Watch a festival.
The best way to experience Kerala is to be in the place during one of the many festivals. When you are here try to participate in any of the colorful festivals and enjoy the traditional food there, or observe a wedding with its many rituals, if you are invited.
3. Visit an ancient temple for the marvelous architecture
There are many ancient and beautiful  temples which are masterpieces in architecture built by various dynasties who ruled India earlier, such as  Hampi, Belur, Halebid,  Madurai Meenakshi Temple etc. You can visit any one of them and admire the architectural beauty.
4. Go on a wildlife safari and spot the wild animals and rare birds
South India is home for many wildlife sanctuaries. Plan for a wildlife safari and enjoy the natural beauty of this beautiful land.
5. Visit the palaces and admire the enchanting beauty of them.
Visit palaces like Mysore Palace, which is the Battlefield of Gods, abode of kings, muse of poets and playground of athletes. A priceless national treasure and the pride of a kingdom, the Mysore Palace is the seat of the famed Wadiyar Maharajas of Mysore.
6. Leisurely spend an evening in any of your favorite golden beaches of South India
South India is blessed with many beautiful beaches like Kovalam, Goan beaches etc.  Kovalam, a favorite haunt of European tourists, is an internationally renowned beach with three adjacent crescent beaches. Spending an evening here for diverse-sunbathing, swimming, herbal body toning massages,special cultural programmes, Catamaran cruising etc. will be a great experience.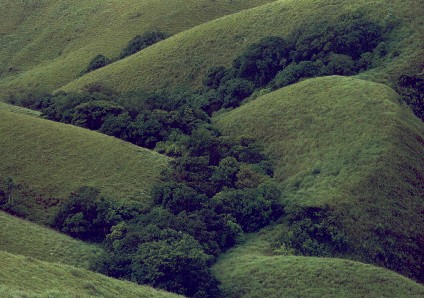 Munnar
7.Enjoy a summer vacation in any of the beautiful hill stations of South India
Among the top things to do in South India, is a vacation in a hill station since this land is blessed with exceptional natural beauty. Spending a vacation in the verdant hill stations, tea gardens like Munnar, landscape beauty, and lush plantations will be a delightful experience.
8. Get your medical treatment in any of the best
hospitals in South India
India is one of the top medical tourism destinations and the southern region is also very popular for medical care, equipped with world class hospitals and well experienced doctors. Low cost medical treatment, high quality medical care, low waiting time and sight seeing opportunities are some of the factors that attract the patients from abroad towards taking medical treatment here. 
9. Get an ayurvedic massage and learn yoga for a complete healthy life.
Taking an ayurvedic massage in any of the resorts in South India for rejuvenation and refreshment is very popular. Many consider this as one of the top things to do in South India.
10. Whenever possible enjoy a train travel.
Traveling in an Indian train is a good experience. You can spend time looking out the windows or carriage door. The ever changing landscape provides a rare and hassle free view everyday life in India.
Special trains for tourists are also available, like The Golden Chariot. This train gets its name from the Stone Chariot in historic Hampi, one of the many places it visits as it winds its way though the state of Karnataka.
Return to Hotels and Flight page