Travelling South India
Getting to and travelling South India
Travelling South India - Getting to South India is far simpler than you realize! Tourist Visa on Arrival (T-VoA) enabled with Electronic Travel Authorization (ETA) has been introduced for Foreign Tourists of 43 countries. Check out . (https://indianvisaonline.gov.in) So coming to India is even more easier and you can explore your options at your leisure: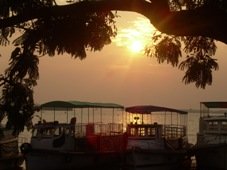 Travelling South India - Airports
Chennai Madras (Meenambakkam) International Airport www.airportsindia.org.in  

Bengaluru(Bangalore) International Airport The airport is located east of the Bengaluru-Hyderabad national highway (NH7), in Devanahalli. www.bengaluruairport.com
Chhatrapati Shivaji International Airport (Mumbai) The airport terminals are located 26-30km (16-19 miles) north of Mumbai. www.csia.in
Trivandrum International Airport The airport is located 5km (3 miles) southwest of Thiruvananthapuram (formerly Trivandrum), the capital of Kerala.
There are different modes of travel available in South India.
By Air - Many Airlines are available to move from one city to another.
By Train - The next option is train. If you are a person who love to enjoy the beautiful landscapes of South India, sitting and relaxing comfortably in the seat, sipping a cup of coffee or tea or juice,train is the best option to travel inside South India. You can even book the tickets online.
By Bus - There are plenty of Government and private run buses available in South India for budget travellers as well as luxury travellers.
By Taxi and Autorikshaw - For local travel inside the city, you can choose taxis or autorikshaws (three wheeler vehicle). In some towns you may find cycle rikshaws too.
Whatever is your mode of transport it is better to follow certain useful tips,especially by the women travellers, for a safe and memorable vacation.
Read these Travel Tips by Dr. Eva Bell for the safety of the women travelers.