Varadaraja Perumal Temple, Kanchipuram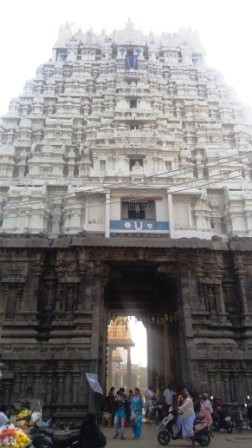 Varadaraja Perumal Temple is located in the suburb of Kanchipuram known as Vishnu Kanchi, about 3 kms away from the city, on a hilltop. Locally it is known as Perumal Koil. Lord Vishnu is worshipped here.  The shrine is among the 108 Divya Desams where the Alwars (Saint poets) have sung in praise of Lord Vishnu. Another importance of the temple is the deity is swayam vyktha (self-manifested) which means it was not installed by any one.  

The huge shrine of Varadaraja Perumal  is in the standing position with four hands holding the Shanku (conch), Chakra (discus) and is decorated with precious jewels, facing the east.  

Varadaraja Perumal Temple in Kanchipuram links it to a legend of Lord Brahma. The legend goes like this. After Lord Brahma created the universe, he wanted Lord Vishnu to come down to earth. So he began to perform the Aswameda Yagam and when the ceremony was about to get over, Sri Varadaraja along with his consort, Lakshmi appeared out of the flames of the fire. Thus Vishnu fulfilled  the wishes of Brahma.

There are about 24 steps to climb to reach the shrine. The Rajagopuram in the front is 180 feet in height and it was built in the 11th century by the Chola kings and later it was renovated by Vijayanagar kings. The 100-pillared mandapam is carved out of single rock, next to which is the temple tank.  There  are two lizards, one in gold color and the other in silver colour, on the back side of the temple sculpted on the wall.  It is believed that touching these lizards would wash away the sins of devotees. 
The other shrines in this temple are Lord Rama, Yoga Narasimhar, Lord Krishna, Alwars, Kariamanikka Perumal, Andal and Varaaha Perumal.
The architecture of the temple is astounding. 
Festivals of Varadaraja Perumal Temple
The main festivals of the temple are -
Adhyayanotsavam (December-January)

Procession to Pazhaya Seevaram - On Pongal Day and Chitra Pournami (Full moon in April-May) 

2 Float festivals
Timings of the temple - 6 a.m to 12 noon and 4.30 to 8 p.m.

Learn more about the history and architecture of the temple here.
You can see a video of the festival here -
Varadaraja Perumal Temple Festival