Kanchipuram Attractions
of Tamil Nadu
Kanchipuram Attractions for the Tourists:
Kanchipuram is one of the seven holy cities in the country. It is located 75 kms away from Chennai, on the banks of Palar river. Also called Kanchivaram. Once this holy city had one thousand temples, but today the number is very less. It was the capital city for Cholas and Pallavas. It is also an important pilgrim centre for Buddhists, Jains and Saivite Hindus. It was a major centre of learning, culture and philosophy. Therefore, it is a good idea for a tourist who visits Tamil Nadu to include Kanchipuram attractions in the list of must see places, while booking your tour packages.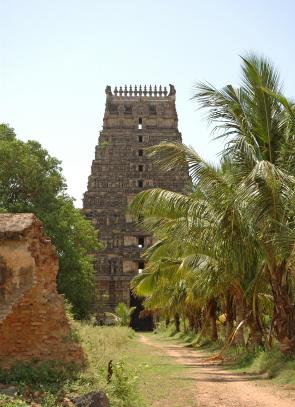 There are many other  Ancient Temples in Kanchipuram, and the famous
Ekambareswarar Temple is one of them.

Ekambareswarar Temple of Kanchipuram
Attractions of Tamilnadu

Ekambareswarar Temple, devoted to Lord Shiva, was originally built by Pallavas and later reconstructed by the Chola and Vijaynagara kings.
The eleven-storey structure that is adorned with beautiful sculptures is one of the tallest temple towers in South India. This huge temple complex covers an area of about 20 acres. An ancient mango tree believed to be over 3500 years old is located here with four branches, each bearing fruits of different tastes. 
Kailasanathar Temple, built in Pallava style, is famous for exquisite carvings and attracts devotees and tourists alike. It is a masterpiece of early Dravidian architecture.

Varadaraja Perumal Temple, built by Vijayanagar kings, is dedicated to Lord Vishnu. The 100-pillared hall of this temple proves the mastery of the sculptors of Vijayanagara.
Vaikunta Perumal Temple, built by Pallavas in 7th century, dedicated to Lord Vishnu.
Ulagalanda Perumal Temple, built by Cholas, with an awe-inspiring idol of Vishnu that is 35 feet in height.
Ashtabuja Perumal Temple, where Lord Vishnu has eight arms.
Kamakshi Amman Temple, built by Cholas in 12th century, has beautiful gopurams, pillars, mandapams and tanks. The annual 'Car Festival" of the temple is held in February-March.
There are also Churches and Mosques in Kanchipuram.
Masjids - This mosque was built 450 years ago by the Nawab of Arcot near the Ekambareswarar temple. There is another mosque near the Vaikunta Perumal temple. The beauty is that the mosque and the temples share a common tank, true to the spirit of tolerance that India is renowned. Muslims share in the Brahmotsavam festivals of the Varadaraja temple too.
Christ Church was built in 1921 by a Britisher named Mclean. The brick structure was typically Scottish, with arches and pillars.
Other interesting places worth visiting there
Kanchi Mutt, established by Adi Sankara, who lived from 788 to 820 AD, is located 5 kms away.
Anna Memorial Kanchipuram is the birthplace of Dr. C.N. Annadurai, tne scholar statesman.
Shakunthala Jagannathan Museum of Folk Art.
Vellamalai, located 18 kms away, is believed to be the birth place of Valli, the second wife of Lord Murugan. The main temple dedicated to Lord Murugan is set atop a hill.
The historic town Arcot is 27 kms away. Relics of tombs and Jami Masjid reflects the glory of bygone era.
Chengalpattu is 35 kms away from Kanchipuram, where a beautiful Kolavai Lake with hills on one side providing a lovely backdrop to this scene, with boating facilities.
Vedanthangal Bird Sanctuary is 32 kms away, which is a haven for migratory birds.
Pandavadhootha Perumal Temple built by King Rajakesari Varman, is dedicated to Lord Vishnu.
This temple city is also famous for silk sarees woven in dazzling colors and embellished with fine gold thread called zari. Kanchipuram silk saris are an essential part of Indian bride's trosseau.
Accommodation in Kanchivaram
GRT Regency 4star hotel  with affordable prices.
Hotel Baboo Surya on E.Raja Street.
Hotel Mamalla Heritage at Mamallapuram
Green Coconut Resort Kancipuram
Special Deals - Find the best deal, compare prices, and read what other travelers have to say at TripAdvisor.
Reaching there to see Kanchipuram Attractions


By Air: The nearest airport at Chennai is 60 kms from Kanchi.
By Rail: Railway station on the Chengalpattu-Arakkonam line. Can be reached via Chengalpattu from Chennai.
By Road: It is just 75 kms from Chennai and is linked by good road and bus service.
Return from Kanchipuram Attractions To Tamil Nandu