Kamakshi Amman Temple, Kanchipuram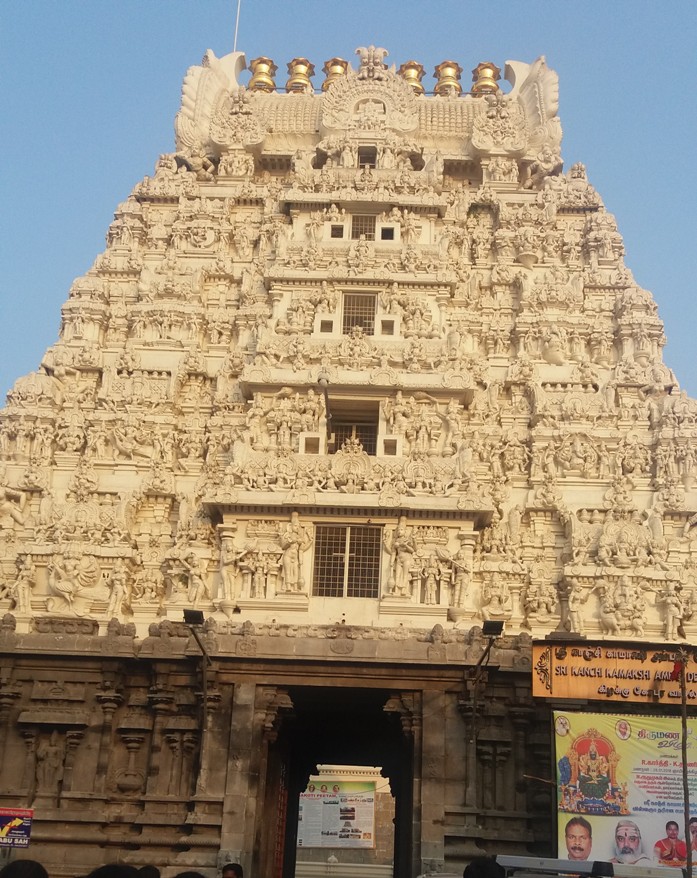 Kamakshi Amman Temple is situated at the centre of Kanchipuram, covering an area of about 5 acres.   Goddess Kamakshi (a form of Goddess Parvathi) is worshipped here, and this is one of the three main temples of Goddess Parvathi.  The other two are at Madurai and at Varanasi. This is the only temple dedicated to Goddess Parvathi in Kanchipuram, and it is one of the 51 Shakthi Peetas. It was built in 12th century by Chola kings. 
In the Kamakshi Amman Temple - On the right side of the entrance of the temple is Mahishasura Mardhini and the left side is Kalabhairavar deities.  The deity of Goddess Kamashi sitting in the Padmasana position, holding sugar cane bow in left upper arm and lotus, and parrot in her right upper arm, is surrounded by the deities of Ayyappan, Saraswathi, Annaporani, and Adi Sankara on the outer prakaram. The Goddess also consists of Varahi, Arupalakshmi, Kalavarperumal, Roopalakshmi and Arthanariswarar surrounding the sanctorum of Goddess on its Gayathri Mandapam.  There is Santhanasthampam inside the prakaram of the Goddess which is called the Nabisthan of the Goddess.  The Kamakshi temple has a great relation with Sri Adi Sankaracharya, hence there is a Srichakra Yanthra (Sri Kamakoti Peetam)  which was established by Jagadguru Sri Adi Sankaracharya in front of the Goddess deity.  Sri Chakra which is said to be containing the efficiency of power of Kamakshi Devi. 'Ka' means Saraswathi Devi (Goddess of Education), 'Ma' means Lakshmi (Goddess of Wealth) and Akshi means eyes. The name as a whole means Goddess who possesses Saraswathy and Lakshmi as her two eyes.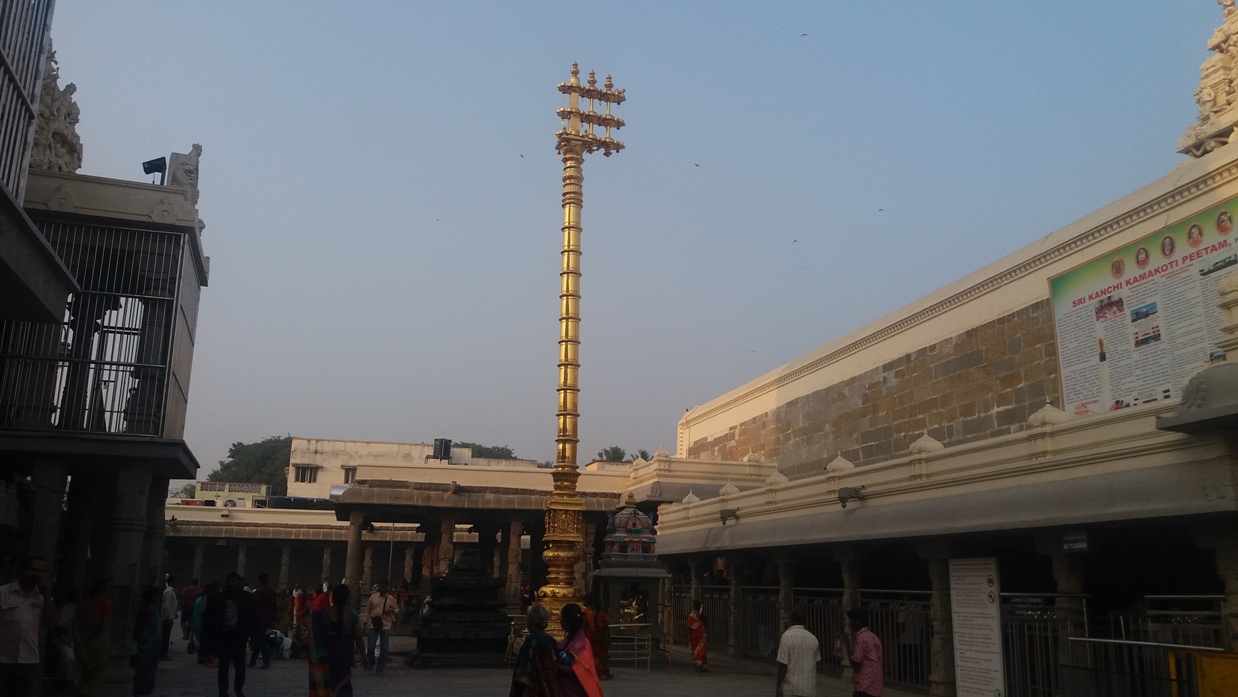 A huge Dhwajasthampa is seen at the center of the temple. There are two temple tanks inside the premises. There are benches around the temple for the people to sit and relax. 
Legend goes like this. While Kamakshi Devi was performing penance in earth making Lord Shiva's idol in mud, He decided to test her. He  incarnated Himself as Kamba River and raised high tides to destroy the idol, but Kamakshi safe guarded the Shivlinga by closing the idol with her two hands and continued her penance sitting on a needle tip surrounded by Panchagni (5 fires). Impressed by her dedication, Lord Shiva appeared before her and married her.   
Kamakshi Amman Temple 
Rituals
Please check out this video to know more about this temple.
Video - Kamakshi Amman Temple, Kanchipuram
Three times Abhishekam is done in Kamakshi Amman temple - starting at 5.30 a.m, 10.30 a.m and 4.30 p.m.

Special Darshan (Santhana kappu) - on Wednesdays and Saturdays (evenings).
On Full moon days, Pournami Pooja is done from 9.30 p.m. onwards.
Daily - Sahashranamam archana is done from 9 to 10 a.m. and 7 to 9 pm.
Daily - Ashtothram Archana is done from 7 a.m to 12 noon and 6 to 8 p.m.
There is a Thanga Ratham (Golden Chariot) in the temple  which is taken out on Festival days and on Friday evenings at 9 p.m.  

Distance from Chennai, 75 kms only, and from Bangalore 276 kms (4 to 4 1/2 hrs) drive.