Namakkal Narasimhaswamy Temple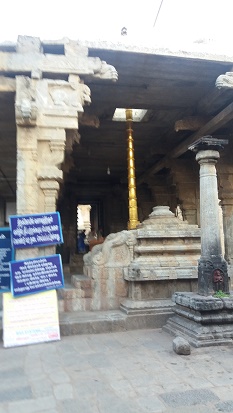 Namakkal Narasimhaswamy Temple is a very famous temple and is located in Namakkal town.  The temple is dedicated to Narasimha, an avatar of Vishnu. This temple is constructed in the Dravidian style of architecture and Rock-cut architecture.  Lord Lakshminarashimha is sitting inside the Cave temple of Saligrama hill  on a Rathna Simhasanam (Golden chair with all precious gems) in Veerasa posture facing west direction. Veerasana is one of the Yoga posture, in which body remains stiff and straight and mind remains strong and brave. Lord Lakshminarashimha facing west direction considered as one of the special feature of this temple, which will give devotes immense courage and power. It is believed that He is sitting here after doing Hiranya Samharam (killing Hiranya). 
He is having four hands with Prayoga Chakram on his top right hand (Chakram which is ready to use) and Pancha Sanyam on top left hand (white conch). His down right hands is with Aahwana Muthra, like inviting devotees with assurance and kept his down left hand on his left Knees. Goddess Mahalskhmi resides on his right chest (Sreevatsa Lakshmi).
He is wearing Saligrama Haram with 108 saligramams and having Velli Pirambhu (Silver stick) which is used to punish demons, nullify the evils sprit and clear black magic.
Here, God Narasimha is surrounded by Sanakan, Sanathanan (sons of Brahma), Surya, Chandra, Brahma and Shiva.  This is one of the special temple with the merit of Thirumurthy Sthalam, in which Lord Bramha, Siva and Vishnu resides in the same temple and situated in the same golden chair.
This Cave temple is one of the best examples of the architecture and sculpture intelligence of Pallava's Kingdom. This cave is really big in size and designed by craving as roof, floor and pillars.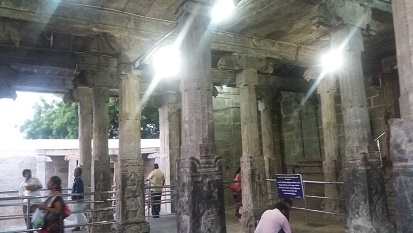 Behind this temple is  Rockfort. - The most popular attractions within the city of Namakkal are the Rockfort (Malai kottai), and the temples surrounding it. This fort was built by Tippu Sulthan. The Rockfort takes about 30 minutes to hike to the top, and is of mild to moderate difficulty. It is a monolith about 65 metres in height, with the ruins of an ancient fort on top, spanning a few acres.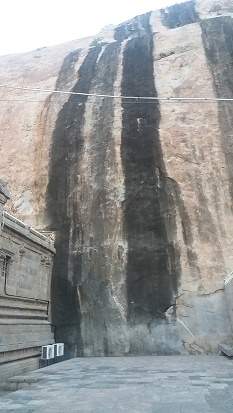 When you visit Namakkal Narasimhaswamy Temple, don't forget to visit Namakkal Anjayneyar temple which is just across the road. 
How to reach Namakkal Narasimhaswamy Temple
By Road - The distance from Bangalore is approximately 250 kms, 57 kms south of Salem. 
By Train - There is a railway station in Namakkal.