Madurai India
Madurai India, the sacred Temple Town 
of South India, Madurai Meenakshi Temple, Theppam Festival
Madurai India, the sacred town, is situated on the banks of River Vaigai in Tamil Nadu, South India. It is the oldest and the second largest city of the State. Madurai was the capital city of the Pandyas when they ruled South India.
The Pandyan king, Kulasekhara had built a gorgeous temple around which he created a lotus shaped city. According to the legends, when this city was being named, Lord Shiva blessed the city and its people with divine nectar on the auspicious occasion,and hence the city was named "Madhurapuri" which later became Madurai.
Attractions of Madurai
Meenakshi-Sundareshwara temple is the main attraction of this city of Madurai India. This 17th century architectural marvel attracts thousands of pilgrims and visitors from India as well as abroad. It is one of the largest and most visited centres of worship in the country. This temple is ornated with intricately carved stone walls, life-like statues and beautiful murals.
The twin temples of Meenakshi and Sundareshwar, rectangular in shape,lie enclosed within the towering 6 mts high wall of the temple. This magnificent temple with its huge Gopurams and thousand pillared 'Mandapam' are adorned with carved figures of mythical characters. These pillars are carved out of a single granite rock, and when touched music is produced, and hence are called as musical pillars.
Please note - You will not be allowed to take even your mobile inside. No photography is allowed.  
Apart from free darshan entry, paid darshan entry is also available for a fee of Rs.100/-, to have darshan in both the temples (Meenakshi & Sundareshan temples). 
This temple is an excellent example of Dravidian Architecture. One can climb to the southern Gopuram of the temple to get a panoramic view of the city of Madurai India.
Why not take a virtual tour of Madurai Meenakshi Amman Temple to see the stunning architecture of India?
The main festival is Theppam Festival.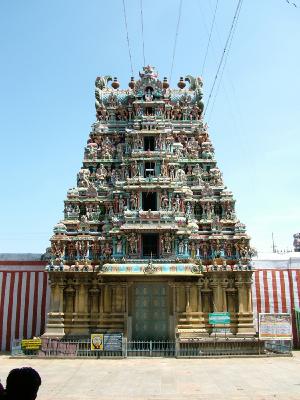 This beautiful Palace was built in 1523 AD and originally was four times larger than what it is today. Now the main attraction of the palace is light and sound show, which is based on the life of "Tirumalai Nayak" and "Silapathikaram". This palace is an excellent example of Indo-Sarcenic architecture.
Koodal Azhaar Temple is another ancient temple in Madurai. This temple, dedicated to Lord Vishnu, also has intricate carvings. In this temple various postures of Lord Vishnu are seen.
The Gandhi Museum - The museum was initially the palace of Rani Mangammal. The museum with Gandhi Memorabilia in the blood stained Dhoti, which he was wearing at the time of his assassination, is worth a must.
Vandiyur Kanmoy Tourist Complex is an ideal picnic spot with TTDC providing boat houses and restaurants services.
Vanditur Mariamman Teppakulam - This huge tank was built by Tirumalai Nayak in 1646. It is said that channels from the Vaigai River connected the tank. Today, this tank remains empty for most of the year except during the Teppam Festival.
Thirupparankundram, 8 kms away from Madurai, is one of the abodes of Lord Subramanya, a rock cut temple carved out of a mountain.


Azhagar Koil, dedicated to Lord Vishnu, is 18 kms northeast of Madurai on a picturesque hilltop.
Pazhamudhirsolai, one of the six abodes of Lord Subramanya.
Accommodation 


Madurai has vide range of hotels and most of them are at Town Hall Road and West Perumal Maistry Street, which are not far from the railway station.
Getting there
By Air - Madurai has its own airport.
By Rail - Madurai has one of the major railway junctions of South India. It is connected with the all the major tourist as well as religious places in Tamil Nadu.
By Road - There are five bus stands and good motorable roads connecting to other cities.
Return from Madurai India to Tamilnadu tourist spots
Go to Tamilnadu Temples