Tiruchendur Murugan Temple

Situated along the shores of the Bay of Bengal, Tiruchendur Murugan Temple is known as the second Arupadai Veedu of Lord Muruga. It is also known as known as Sri Senthil Andavar Temple. This has been clearly described by Nakkirar, the famous Tamil poet, in Thirumurugatrupadai and in other Tamil works like Purananooru, Silapathikaram and Devaram.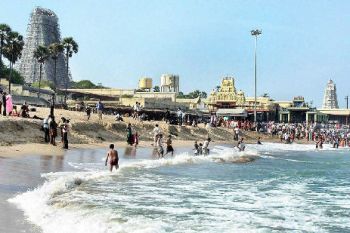 The temple is located on Chandana Hill, rising near the shores of the sea rich in pearl deposits. It has been praised in Kandapuranam as "Kanda Madana Parvatham". All other Padaiveedu shrines are situated on hills and mounds, and it is the only Murugan temple on the seashore, bounded on the north and east by the sea.
The mighty Raja gopuram (known as Mela gopuram), with nine storeys, built in a height of 137 feet, is in the western side. The gopuram has nine Kalasams (sacred copper pots) at the top. Shanmugha Vilasa Mandapam is the main entrance to the temple facing the south, although the sanctum faces the east. The temple has two prakarams.
According to legends, it is said that Lord Murugan (Skanda) camped here along with his army and vanquished the demon Surapadma and his army, in his fortress Veeramahendram situated in the middle of the ocean here. Hence it is known as one of His "Padai Veedu" in Tamil which means the battle camp. On defeating the demon, the Lord converted Soorapadma into a peacock and a cock. The Mayil (peacock) became His vehicle and therefore Lord Murugan is also called Mayilvahanan.The festivals of the temple are attended by lakhs of people.
The main festivals of Tiruchendur Murugan Temple: Vaikasi Visagam, which falls in May-June. Avani festival which falls in August-September. 7th,8th and 10th day functions are more important. Skanda Sasti Festival is celebrated during October-November. This festival is celebrated for 7 days, in a large scale, with a unique ritual called Soorasamharam. Masi festival falls in February-March, which is celebrated for 12 days.
The last Friday of each month a procession of Senthilandavar with His consorts is held in the outer prakaram.
Temple timings: From 5:00 am to 12:00 pm and from 5.15 pm to 9.00 pm. Nine Kalams of pooja are performed daily to the deity.
Accommodation Free and cheap accommodations are available there.
Reaching Tiruchendur Murugan Temple

The distance from the temple to Tirunelveli - approx. 56 km.
The distance from the temple to Kanyakumari - approx. 88 km.
The distance from the temple to Tuticorin - approx. 45 km.
Tamil Nadu State Transport Corporation (TNSTC) buses are available from these places.The nearest Railway station is Tiruchendur, and the nearest Airport is Tuticorin.
The Other five Temples in the Arupadai Veedu  sung by Nakkeerar
(1) Tiruparamkundram Subramanya Swami Temple,
(2) Swamimalai Swaminatha Swami Temple,
(3) Palani Dandayudhapani Swamy Temple,
(4) Tiruthani Subramanya Swamy Temple and,
(5) Palamudhircholai Subramanya Swamy Temple.

Return To Tamilnadu Temples