Festivals of Karnataka
Festivals of Karnataka are celebrated with great pomp and show. Apart from the common Festivals of India like Mahashivaratri, Vinayaka Chaturthi, Deepavali,Ram Navami, Srikrishna Jayanthi, Navaratri, Akshaya Tritiya, Budha Purnima, Mahavir Jayanthi, Bakrid, Ramzan, Christmas and Easter,Karnataka also celebrates her unique festivals like Ugadi Festival and Dussehra festival. 
Festivals of Karnataka  - Unique to the State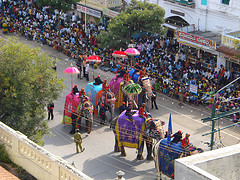 Rajyotsava Day Festival -  1st of November is celebrated as Rajyotsava Day throughout the State, being the day of formation of State of Karnataka. A colorful procession is taken out with the picture of Goddess Bhuvaneshwari on a vehicle beautifully decorated and folk artists perform their art.  
Hampi Festival- Also called as Vijay Utsav. This festival is held in November at Hampi with great splendor.
The ruins of Hampi come alive with the music and sounds of dance where artists from other parts of the State participate, organizede by the State Government to recreate the grandeur of the Vijayanagar empire. 
Pattadakkal Dance Festival - This grand festival, also known as Nruthyotsva,  is celebrated in the city of Pattadakkal, with music and classical dance, in January, organized by the Government of Karnataka.  
Vairamudi Festival - This festival is held in March every year at Melkote. Lord Vishnu is adorned with the legendary diamond studded crown brought from the Mysore Palace ceremoniously which is attended by thousands of devotees. It reflects religious glory and rich Kannada heritage.
Tula Sankramana - This is the special festival of the people of Kodagu,(Coorg) celebrated with much festivity, in October. It is believed that Goddess Cauvery appears in the form a sudden upsurge of water in a small tank to give darshan to her devotees gathered here. The devotees carry home the holy water in bottles. 
Buffalo Race (Kambala) - This festival is usually held in the coastal Karnataka, during the period November

to March. This festival was originally began as a royal pastime, but later it was continued by the Tulu region. 
When the agricultural fields are flush with water, buffaloes race down a slushy track with a strong-muscled farmer surfing behind. At the exciting Kambala buffalo race, the swiftest gets the prize. 
Karaga Festival - This 9-day festival is celebrated in the Darmaraya Temple in Bangalore, in the honour of Draupadi, the spouse of Pandavas of epic Mahabaratha. 
Kadalakai Parishe (Groundnuts Festival) - This 3-day festival is held on the last Monday of Karthikai masa  near Dodda Ganesha, temple, near the Bull Temple at Basavanagudi in Bangalore. Farmers from Karnataka and the neighbouring states too exhibit their groundnuts for sale here. In the festivals of Karnataka, Kadalakai parishe has great importance. 
Want to know more about the festivals and their legends, how they are celebrated etc? Get this book Festivals of South India.