Chennai Attractions -
Things to do in Chennai
Chennai attractions -There are several things to do in Chennai, the Capital City of Tamil Nadu, South India. Chennai Attractions are many for a tourist to enjoy.  
Chennai, the fourth largest city in India, is also the cultural capital of India for its deep-rooted traditions and long heritage. It was called Madras till 1996 and then renamed Chennai. Today this city is a blend of the old and the new, the traditional and the modern. It is spread over 200 square kilometres with the Bay of Bengal on the east, the city is the gateway to the rest of South India, with many attractions.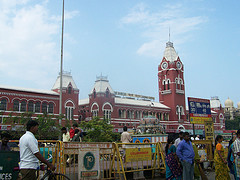 History of Chennai - In 1639 two agents for the English East India Company, acquired a strip of land on lease from the Vijayanagar King and built the Fort St.George. This fort remains of the city's important landmarks, and is one of the main Chennai attractions.
Chennai Attractions - Places of Interest in Chennai
Fort St. George is the pride and prominent place in Chennai, which occupies the State Legislature and the Secretariat. 

The St. Mary's Church, the oldest Anglican Church in India built in 1680 is situated here, which is one of the main Chennai attractions.Some of the oldest British tombstones in India are also here.
Marina Beach, Covelong Beach and Elliot's Beach are also here.

The Tidel Park,the home for the Information Technology Industry, is the newest pride of Chennai. It is an architectural marvel and houses several large national and international software companies.
Vivekananda House & Museum - In 1897. Swami Vivekananda visited this city and stayed in this historic building. Photographs depicting the historical happenings associated with his life and books about him and his own written works are on display and sold here in the Museum.
Boating in the Chengalpattu lake is one of the things to do in Chennai. 
Amusement Parks are some of the best Chennai attractions.  There are many amusement parks such as Kishkinta, Little Folks, Mayajal, MGM DizzyWorld and V.G.P. Golden Beach on the way to Mamallapuram, Dash and Splash, and Queens Land near Poonamallee.
Fort Museum with rare exhibits of weapons, uniforms, coins, costumes, medals and other artefacts and memorabilia of the British period. The flagmast at Fort St. George is the tallest in India.
The Island Ground is situated on an island formed by the River Cooum. Trade and Tourist Fairs are held here periodically. 

The High Court with decorative domes and corridors reminiscent of Indo Saracenic architecture, is another prominent landmark of Chennai. Built in 1892, the High Court of Chennai is one of the largest judicial complexes in the world.
Theosophical Society, the world headquarters, It is situated in the beautiful and sylvan surroundings of the Adyar River.
Birla Planetarium at Kotturpuram, situated between Adyar and Guindy, is the most modern planetarium in the country, which is one of the things to do in Chennai.
Periyar Sceince and Technology Museum is located adjoining the planetarium.
Kapaleeswarar Temple in Mylapore, dedicated to Lord Shiva, is an 8th Century Pallava Temple. It is built in the characteristic Dravidian style of architecture.
St. Thomas Mount which is believed to be the place where St. Thomas was martyred. An old church built by Portuguese is here.
Read about a trip to Chennai by one of our visitors.
Ripon Building where the Chennai Corporation is housed. It is the oldest city corporation in India.
Valluvar Kottam, the memorial to the immortal Tamil saint philosopher Thiruvalluvar, in Thiruvarur.
The Govt. Museum and National Art Gallery 
Many South Indian bronze images are housed here.
Guindy National Park, sprawled to 595 acres, is situated adjacent to Raj Bhavan.
Children's Park and Snake Park near Guindy.
Vandalur Zoo, with Nocturnal Animal House, Safari Park, a Walk- through Aviary, the Pre-historic Animal Park, Zoo-education and interpretation, Prey-Predator enclosures and an Aquarium, is located 35 kms south of Chennai.
Crocodile Bank is situated 44 kms away from Chennai.
Dakshinachitra is located in Muthukadu, 35 Kms from Chennai, preserving its rich cultural heritage.
A number of temples are also located in the city and in the surburbs. They are worth a visit for its architectural splendour and sculptural marvel.Thirukazhukundram Temple (Pakshi Theertham) is just 70 kms away, nearMahabalipuram.
Accommodation
If you need accommodation near Chennai Airport, Airport Hotels Chennai
List of Chennai Hotels with their Reviews
Vivanta by Taj Fisherman's Cove
Other Things to Do in Chennai
Apart from usual Chennai Attractions it is worth checking out the Picnic spots and Water Sports around Chennai, Tamil Nadu.
Muthukadu is an ideal picnic spot with facilities for boating and windsurfing.
Mudaliarkuppam, located 67 kms away from city, is another picnic spot, and a best place for water sports. Boat club, a fantastic Sand Island, and bird watching are the main attractions. The Sand Island is surrounded by sea water all around and well grown trees. Buses from Chennai to Puducherry touch this place. Timing of the Boating House - 9 a.m. to 6 p.m.
Pazhaverkadu located about 50 kms from Chennai city, is yet another picnic spot. Water sports, bird watching and Dutch cemetery are the main attractions here. It is the second largest Salt Water Lake in India. Buses are available from Chennai to Ponneri, (30 kms away) and from there another 20 kms distance to reach Pazhaverkadu.
Return from Chennai Attractions to Tamil Nadu