Bangalore Karnataka India is a very popular city in South India. The charming Bangalore is the Capital city of Karnataka, and popularly known as the "Garden City". Bangalore is also called as the "Air conditioned city," due to the salubrious climate it enjoys throughout the year, and hence it offers a perpetual holiday  atmosphere.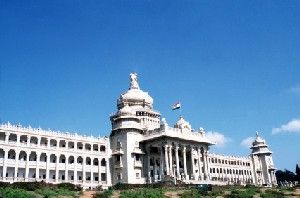 Bangalore is the Silicon Valley of India. Bangalore is also the country's main industrial city. Many famous educational institutions, research institutions and hospitals are also here.  Thus, Bangalore is a great place for education, medical treatments, shoppers' haven, vacation time, fun and merriment for all ages.  
Following India's independent in 1947, Bangalore became the capital of Mysore State, and remain capital when the new Indian state of Karnataka was formed in 1956. 
Bangalore is the anglicised version of Kannada language Bengaluru. The city was renamed Bengaluru in November 2014. 
It is one of the most liveliest and charming of all Indian cities, with famous restaurants, night clubs, amusement parks, discotheques, theatres,  cinema halls and shopping malls. 

Several elegant shopping malls are also there where you can pick up anything from the latest designer wear to exquisite silks, traditional handicrafts and sandalwood souvenirs. There are many attractions in Bangalore Karnataka India. To know more about the history of Bangalore click this.