Top 10 Shopping Malls in Bangalore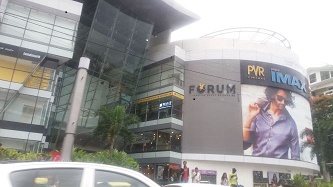 Malls in Bangalore - There are several shopping malls in Bangalore. India's first shopping mall was built in this city and it is considered one of the best cities for shopping. 
1. Orion Mall - Located at Rajaji Nagar, Orion is one of the best planned and well designed malls in Bangalore, spreading over 850,000 sq ft, and having more than 100 brands caters to everyone's needs, which includes shopaholics and window-shoppers. Also there are many restaurants, PVR Cinema, and BluO the biggest cosmic bowling alley in with 27 lanes.  Besides, many live performance by different artists are conducted during festive season.  
Timings - 10 a.m. to 10 p.m.  website - www.orionmalls.com
2. Phonics City - Located at Mahadevapura, Whitefield Road, Phonic City mall offers a wide range of shopping with all top brands.  It is one of the popular malls in Bangalore.  Indian and Italian cuisine are available in the restaurants.  The speciality of the mall is the open courtyard in the front that hosts multiple events like musical concerts, live shows, painting competitions etc. 
Timing: Mon – Friday: 10:30 AM to 10:00 PM, Saturday/Sunday: 10:30 AM to 11:00 PM  website - www.phoenixmarketcity.com/bangalore 
3. Mantri Square Malls - Located at Sampige Road, Malleswarm, it is one of the biggest shopping malls in Bangalore  spreading over 1.3 million square feet and offering more than 200 shopping brands, more than 2000 delicacies to satisfy every palate. Besides, It has  scary house, Inox, Planet M and many more for entertainment. The mall is well equipped for kids, elders, handicapped etc.
The only problem is parking space since it is in the heart of the city. 
Timings: 10.30 a.m. to 11 p.m.   website - www.matrisquare.com 
4. Forum Mall - Located at Koramangala, on Hosur Road, the mall is housed at 5 floors, spreading across 780,000 sq ft.  Opened in 2002, it is a shopaholic's paradise and a famous landmark of Bangalore. It has the distinction of being the first full-fledged mall of Bangalore. The mall houses retail giants like Westside, Metro, United Colors of Benetton, Mochi, Planet Fashion, Weekender, Provogue, Isis and many other renowned brands. It is a full fledged entertainment centre housing a multiplex, PVR, with 11 screens (including IMAX) that feature the latest movies from Hollywood, Bollywood and the South Indian film industry. It has also a multi storey bookstore, the Landmark with the latest books.  The Food Court has got several top line food chains like KFC, Pizza Hut, McDonald's, etc. Parking facility is available. For women, there is separate parking place also. 
Time: 10 a.m. to 10 a.m. Website - www.theforumexpereince.com
More Shopping Malls in Bangalore
5. UB City - Located at Vittal Mallya Road,  UB City is India's first luxury shopping destination, and houses many branded shops like Burberry, Rolex, Canali etc.  UB City can accommodate a 1600 cars in the Triple Level puzzle parking in the mall. The UB tower is the highest one in Karnataka towering a height of 124 meters and the icon of Bangalore city.  
Timing - 10.30 AM to 10 PM. website - www.ubcitybangalore.in 
6. Inorbit Mall : Located at Whitefield, spread across 4,21,000 sq ft, Inorbit Mall is an excellent walk through experience of shopping for national and international brands. 
Time -- 11.00 AM to 9.30 PM website - www.inorbit.in/mall/ 
7. Royal Meenakshi Mall: Located at South West of Bangalore at Bannerghatta Main Road on Hulimavu,  Opp: Meenakshi Temple,  this mall has hypermarts, accessories shops,  branded collections of clothing, Adventure Land 6D dark house for fun and excitement etc. Besides, for food, it offers many delicacies to savour starting from Italian pizzas to Rajdhani thali. 
Timing: 10 Am to 11 PM  Website: www.royalmeenakashimall.com
8. Ascendas Park Square Mall : Located in Whitefield at International Tech Park Bangalore, the mall offers a wide range of entertainment and shopping experience, Fun, Entertainment and the Food services. Multi-level parking facilities are available. 
Timing: 9:30 AM to 11:00 PM  Website: www.parksquaremall.com
9. Bangalore Central Mall : Located at different places, Bangalore Central Mall  at MG Road is the best, spread across 2,75,00 sq. feet with retailers and food courts, with reasonable prices and affordable. 
Timing: 10 Am to 9.30  PM https://centralandme.com/store-locator/

10. Garuda Mall: Located at Magrath Road, Craig Park Layout, Ashok Nagar, the 6-floor Garuda Mall is  a multi-level shopping mall accommodating many shops spreading across 75,000 sq. meters filled with entertainment, shops and food courts. 
Timing: 10 Am to 10 PM  Website: www.garudamall.in
Return from Mall in Bangalore to Bangalore  
Return to Bangalore Tourist Places