Belur Karnataka
Belur, the historic town of South India

The historic little town Belur, one of the Monuments of Karnataka, is beautifully set on the banks of river Yagachi amidst lush surroundings, in Hassan District of Karnataka. Belur was the Capital of Hoyasala Empire, who ruled the region between 11th and 13th centuries.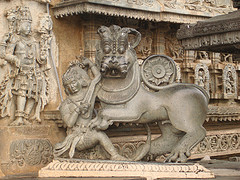 Belur is famous for the exquisite Hoyasala temples. Hoyasalas contribution to the art and architecture of Karnataka is tremendous. The temples built by them during their 300 years of reign are great monuments of Karnataka today attracting tourists from inside and outside of the country.
The temples and monuments at Belur are the examples of their amazing architecture and sculptures in full glory. Today Belur is regarded as one of the jewels of South Indian architecture and a must visit tourist place.

Chenna Keshava Temple - The magnificent shrine of Lord Vijayanarayan, one of the twenty four incarnations of Vishnu, is the presiding deity here. This marvelous temple was built by Hoyasala Vishnuvardhana to commemorate his victory over the Cholas in the great battle of Talakkad.
It is believed that they took 103 years to complete this masterpiece of their architecture. The temple is about 100 feet high and has a magnificent gateway. The temple is decorated with stories from the Puranas, the Upanishads and the epics of Ramayana and Mahabharata.
Darpana Sundari (Lady with the mirror) carved on walls of Belur temple is one of the major attractions.

A number of bracket figures, portraying celestial nymphs or Madanikas singing and dancing, are sculpted on the walls of this temple. All these nimble figures are said to have been inspired by the sublime beauty of Shantala Devi, Queen of King Vishnuvardhana

Chenna Keshava Temple is surrounded by Kappe Chennigaraya Temple on the south and Veera Narayana temple on the west. This magnificent temple makes Belur one of the main Monuments of Karnataka.