Tourist places in Hyderabad 
Tourist places in Hyderabad - Hyderabad, the 'City of Pearls' is a great tourist destination of South India. It is the Capital City of Telangana State and the sixth largest city in India.
Hyderabad, the 'City of Nizams' was christened after the queen - Hyder Mahal. It has a 400 years old history with the rise and fall of various kingdoms. Hyderbad is rich in cultures,heritage monuments, lakes, parks, gardens, resorts, museums and delectable cuisine that lure tourists.
Hyderabad offers architectural marvels like magnificent forts, majestic palaces, ancient mosques and temples, with an interesting blend of Hindu and Islamic styles of architecture.
Major Tourist Places in Hyderabad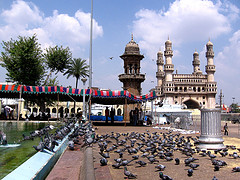 (This photo by: Soham Banerjee) 

Charminar - The main historical monument is the Charminar, situated at the heart of the city. This majestic structure, famous for its architectural excellence, standing proudly at the centre of the city,is also an important landmark of Hyderabad. This square structure was built in granite, lime and mortar in the year 1591 by Mohammed Quli Qutub Shah to commemorate the end of the deadly plague in Hyderabad.
Situated near the Charminar, Mecca Masjid is one of the oldest and biggest mosques of India. Mohammad Quli Qutub Shah started the construction of the mosque in 1617 and the work was completed by the Mughal Emperor Aurangzeb in 1694.The prayer hall of this magnificent structure has a height of 75 feet, width of 220 feet and the length of 180 feet,with two octagonal columns on each side, carved out of a single piece of granite. This heritage monument can accommodate 10,000 people at a time.

Monuments like Asman Garh Palace, Falaknuma Palace and Purani Haveli are also worth a visit in  Hyderabad .

Hussain Sagar Lake - Another major attraction in Hyderabad is Hussain Sagar Lake, one of the largest man-made lakes in Asia,located in the heart of the city. Built in 1562 on a tributary of River Musi, during the reign of Ibrahim Qutub Shah, this sprawling artificial lake connects the two cities of Hyderabad and Secunderabad. The main attraction of the lake is the 350 ton monolithic statue of Buddha, in white granite,on the Rock of Gibraltar, at a height of 16m, standing majestically amidst the shimmer waters of the lake.

Golconda Fort  -Located  about 9 km from the Hussain Sagar Lake, is one of the major tourist places in Hyderabad. Built by Mohammed Quli Qutub Shah in 1525, this majestic monument lies on the western outskirts of the city, perched on a 120 meter high granite hill,as an epitome of Nawabi culture and grandeur. The Fort has a fortification of 10 kilometers. This well-planned, magnificent fort was famous for diamond trade during the hey-days. Golconda Fort still has its royal living chambers, halls, temples, mosques, stables etc. Victory Gate is known for its acoustic effects. The visitors can enjoy a Light and Sound show, narrating its chronicle,in this gigantic fort. 
Salarjung Museum  -  It is the largest one man collections of the world by Yusuf Ali Khan, popularly known as Salar Jung III (1889-1949) and is one of the major tourist places in Hyderabad. After serving as Prime Minister to Nizam for two and a half years, he dedicated his remaining life to his passion of collecting antiques and art and also spent large amount of his wealth towards this purpose. This museum houses about 40,000 objects belonging to different civilisations, dating back to the first century, and it is divided into different sections such as Indian Art, Children's Art, Middle Eastern Art, Far Eastern Art and European Art.
Birla Mandir - Perched on the Kala Pahad (Black Hill), Birla Mandir is a fine specimen of man-made marvel, dedicated to the spiritual powers of Lord Venkateshwara. The temple offers a panoramic view of the twin cities of Andhra Pradesh. In the temple, the ceilings are adorned with intricate art work and beautifully carved structures on the walls, of the scenes illustrated from the great epics like Ramayana and Mahabharata. Birla Mandir looks exceptionally beautiful, in the evening when it is illuminated.
Ramoji Film City  - Located  in the outskirts of the twin cities of Hyderabad and Secunderabad, Ramoji Film City  spread over an area of more than 1000 acres. It was established in 1996 by the Ramoji Group. It is perhaps the largest integrated film studio complex in the whole world. It has about 500 set locations for film shootings. Tourists of all age group from all parts of the world come to visit this bewitching city of Ramoji. No trip to Hyderabad could be complete without a visit to the Ramoji Film City, which is one amongst the major tourist attractions of India, especially in  Hyderabad.

Amusement Parks/Theme Parks in  Hyderabad
Laad Bazaar, a renowned market place for colorful Bangles, Pearls, Semi-Precious Stones, situated next to the Charminar,
Shilparamam - for shopping, boating and a museum and it is one of the tourist places in Hyderabad visited by many.
Nehru Zoological Park situated at Bahadurpur, 16 km from Hyderabad, the largest zoo in India, sprawled over anarea of 300 acres.
Manjira Wildlife Sanctuary located 50 kms from Hyderabad at Sangareddy, alongside Manjira River, with Various species of plants, animals and birds, is one of the tourist places in Hyderabad. 
Mahavir Harina Vanasthali National Park located 15 Kilometers from Hyderabad at Vanasthalipuram, with manyspecies of animals including the endangered Black Buck deers, and migratory birds.
How to reach in Hyderabad
By Air: Hyderabad is well connected by air from all the important cities of the country.
By Rail: Hyderabad is well connected by rail with all the major cities of the country.
By Road: Regular bus services connect Hyderabad with all the important places within the country. For city transportation, city buses, taxis, and auto rickshaws are also available.
Accommodation in Hyderabad
Many luxury hotels and Budget Hotels are available in Hyderabad.
If you need accommodation near the airport at Hyderabad - Airport Hotels in Hyderabad



Return from Tourist Places in Hyderabad to Andhra Pradesh Destinations