Amusement Parks in Hyderabad
Amusement Parks in Hyderabad are filled with thrill and excitement. For family holidays,  these parks are great venues for water related activities and amusing games.
Ocean Park : Located in Gandipet, near Osman Sagar Lake, 15 kms away from Hyderabad city, Ocean Park amusement park is set up on international standards, is a great place for the family with kids to enjoy a wonderful holiday. The park has two major sections. One section of the park is for water sports and amusement games, and the other section is for kids, with a wading pool and fountain. Helicopters, toy, huge air-filled balloon, and video games for the children to enjoy. Kids can have fun rides like Mushroom Umbrella, Tube Slide, Duck Jets, Floating Bridge, Tilting Bucket, Water Screen, Wide Slide etc. Adults can have fun with roller coaster and the ship ride. Timing: 11 a.m. till 8 p.m. on all days. Entry fee: Rs.150/- for adults and Rs.100/- for kids.
More Amusement Parks in Hyderabad
Ramoji Filim City - More details here.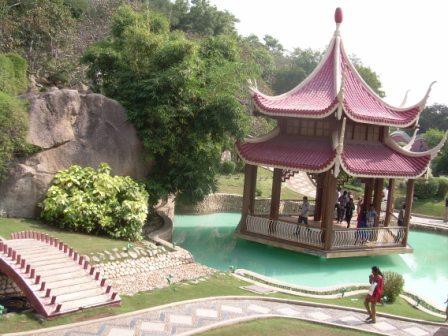 Other Amusement Parks in Hyderabad
Treasure Island : Located also in Gandipet, Treasure Island is set up on 60 acres of gorgeous landscape, is a great amusement park for the family for an outing on a holiday. It offers fun-oriented activities like snooker, horse riding, camel riding, billiards, go-karting, dances and music. Kids can also enjoy rabbits, ducks, deers and birds. Bamboo cottages are there for those who are interested to spend a night there. Food courts are also available. For locals, it is an ideal getaway. Entry fee:Rs.600/-

Jalavihar Water Park: Located at  Sanjeevaiah Park along the Hussain Sagar Lake. It is also very close to the IMAX multiplex. It is a family entertainment Park with many wonderful options to children and adults, such as family slides, mini water trailers, reclining bucket, mushroom umbrella, floating float and pendulum. These are just some of the choices for the families for entertainment.  The Park has two main areas - Entertainment and party. The entertainment area includes water sports, waves, rides, mini-trains and cooking courts. Entry is Free and the Park is opened in all days of the week from 11:00 AM to 7:00 PM
Lumbini Park : Located adjacent to Hussain Sagar Lake, about 3 km from the heart of the city, this amusement park offers musical fountains, artificial waterfalls, a grand floral clock etc. to make a perfect holiday with family. Add Lumbini Park to your list of holidays to visit during Hyderabad visit. 
Return to South India Amusement Parks