Mannarasala Nagaraja Temple
Mannarasala Nagaraja Temple is one of the popular pilgrimage centres of Kerala. This ancient temple is located in Haripad in the district of Allappuzha. This temple is unique in nature, and is dedicated to serpent gods.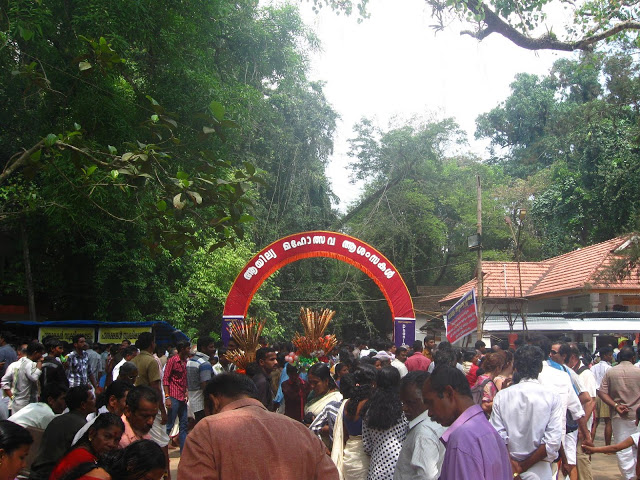 The two main idols are Nagaraja (the serpent king) and his consort, Sarpayakshini. Thousands of snake images are displayed here along the path and on the trees.
Usually, male priest will be performing the pujas in the temples, here, a Brahmin woman is the chief priest of the temple, who is called Mannarasala Amma.
Uruli Kamazhthal (placing of a traditional bronze vessel upside down) is the main offering of Mannarasala temple, which is very popular among childless couple for begetting children. People will go there and pray for blessings to get a child, and promise that if their wish is fulfilled Uruli kamazhthal will be done. Once the couple get a child they will come and do this offering as promised. 
History of the Temple -
According to Legends,  the first priestess of Mannarasala gave birth to a five-headed snake, which is believed to reside in the ancestral house to safeguard the family. Though a land area has formed, the place remains as a piece of land with high concentration of salt, which prompted the people to leave the place in hurry. Saddened by this, Parasuraman decided to start a penance in order to please lord Siva, who ordered him to worship Nagaraja. After another rigorous penance, finally Parasurama became able to satisfy Nagaraja who blessed him with a desalinated land and also granted the eternal presence in Kerala. Thus as per the wish of Parasurama, Nagaraja decided to reside at a place selected by Parasurama. The selected place – Thirthasthala (Hall of Pilgrimage) was filled with Mandara trees, over the years gained the name of 'Mannarasala'.. Later Parasurama brought knowledgeable personalities from other places and installed other deities.The vault in which Nagaraja is believed to be staying is seen with utmost respect by the members of the household. They admire him with great respect and acknowledge with the name 'Muthassan' and 'Appooppan'.

Main Festivals of
Mannarasala Nagaraja Temple

Ayilyam festival is the main festival here, which falls during October-November. Ayilyam festival (Ayilyam Mahotsavam) is celebrated for 3 days, and the 'Maha Deepakazhcha' is the highlight of this festival. The festival will conclude with a grand procession of serpent gods, led by chief priest carrying Thidambu the main deity from the temple to the Manarasserry illam, which is the residence of the family that administers the temple, followed by Ayilyam puja. Nurum palum, kuruthi, coins, pepper, grains etc are considered as Mannarasala temple offerings. Pulluvan songs and dance are also a part of this festival.

Mahashivaratri festival is also celebrated here on a grand way.
Thousands of people attend Ayilyam festival including foreigners.
Timings of the Temple -
Morning - 5 am to 12 noon
Evening - 5.30 to 7.30 p.m
Sundays - Temple will be opened till 1 p.m
Photography is prohibited in the temple.
If you are interested to know more, details can be found here on the temple website www.mannarasala.org
Address:
Mannarasala sree Nagaraja Temple
Mannarasala Dewaswom
Mannarasala P.O, Haripad
Alappuzha 690 514
Kerala state, India
Tel +91 479 2413214
Email: info@mannarasala.org
Reaching there -
The Bus stand is just 3 kms away and the Railway station is just 4 kms away.
Cochin international airport is 100 kms. away.
Return from Mannarasala Nagaraja Temple