Kanyakumari Beach

Kanyakumari Beach is one of the finest beaches of South India. It is located 87 kms away from Thiruvananthapuram city, at the southern most end of Indian Peninsula where the Bay of Bengal confluences with the Indian Ocean and Arabian Sea, provides a unique experience for the tourists.

Attractions of Kanyakumari Beach

The multicolored sand is a unique feature of this beach. If you can be here during the Chaitra Poornima (full moon day in April), when the Sun and Moon are face to face at the same horizon, Kanyakumari town is at its best. Other full moon days are also special, when one can witness the sun setting and the moon rising almost simultaneously.

Kanyakumari Temple
is overlooking the shoreline. This temple is dedicated to the virgin goddess Kanyakumari. According to the legends, Kanya Devi, an avatar of Goddess Parvati, who did a penance in one of the rocks in this area to reach the hand of Lord Shiva.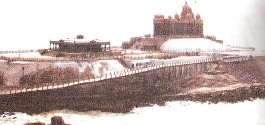 Vivekananda Rock Memorial, which was built in 1970 on a rock in the sea, is a fine blend of various architectural styles of India. It marks the spot where Swami Vivekananda, the great philosopher-guide meditated before his departure to Chicago (USA), for participating in the World Religious Conference in 1893. Ferry services are available from the shore to view this unique structure.

A gigantic statue of Thiruvalluvar, a Tamil saint poet, is also set on a rock amidst sea. His work on 'Thirukkural' is very famous and regarded as a directory of code of conduct and ethics to the Humanity.


Gandhi Memorial is also located here. It marks the spot where the ashes of Mahatma Gandhi, father of the nation, were kept in an urn for public viewing. It is built in such a way that every year on 2nd October, his birth anniversary, the sun rays fall directly on the spot.

Government Museum with the collection of sculptured artic rafts and crafts of South Indian temples are preserved in this museum.
***

When we reached here for a family beach vacation a couple of years ago by train, the experience of knowing that we were at the end of the land where the three seas are meeting together, was exhilarating.


Accommodation at Kanyakumari Beach

Hotel TTDC Hotel Tamil Nadu - Many travellers have given great reviews about this hotel about the the quality of maintenance,food and staff. Also great place to watch the sunrise from the balcony. 
Sparsa Resort-  Sparsa Resort also has some great reviews. It is located on the Beach Road near Sunset Point.

This hotel is located at  5/22 Main Road, Kanyakumari 629702
Reaching There
By Air : The nearest Airport is Thiruvananthapuram.(80 kms)
By Rail : Kanyakumari is connected to Thiruvananthapuram, Delhi, and Mumbai by broad-gauge railway network. Tirunelvelli (80 km) is the other nearest railway junction and can be reached by road via Nagarkoil (19 km).
Return to South Indian Beaches
Return to Tamilnadu Beaches