Athirapally Waterfalls in Kerala
Athirapally Waterfalls, located in Thrissur District on the Chalakkudy River, is the largest waterfall in Kerala. The scenic beauty of the falls attracts many tourists and filmmakers.  Many songs are shot at this scenic place in Tamil, Telugu, Hindi and Malayalam movies. It is also one of the best tourist destinations of Kerala. This magnificent waterfalls which stand 80 feet tall, is a sight  worth visiting to know the mesmerizing beauty of Kerala.  People call it Niagra of India.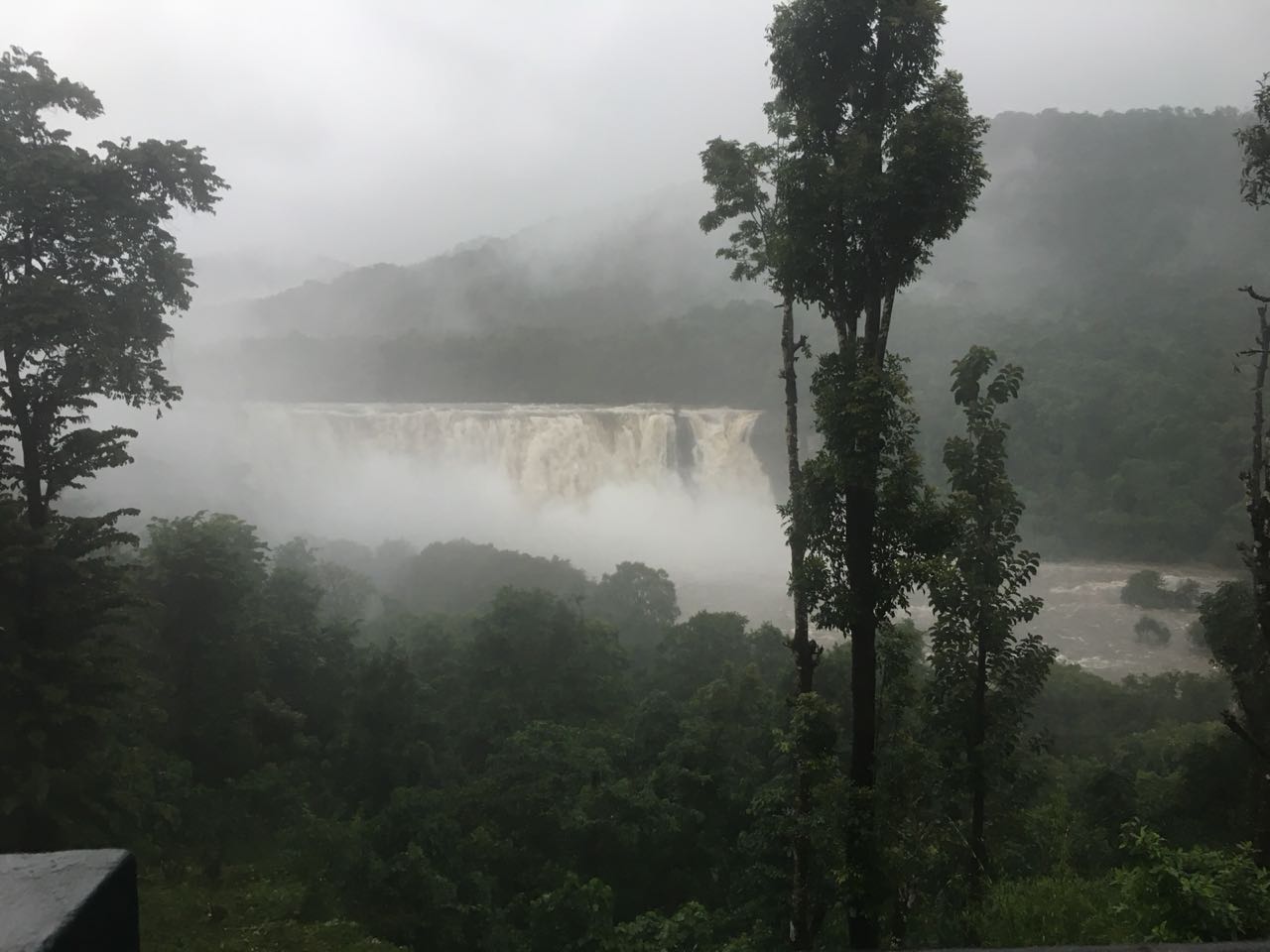 It is one of the most visited waterfalls in South India because of its extreme scenic beauty and tranquility set in the lap of nature. .  After parking your car, you have to walk for some distance and climb some steps. In the monsoon it is slippery, but it is awesome to view the falls and the gurgling sounds of water. If you are going with friends or as young couples, monsoon is the best time to visit here. If you are going with small kids or with elders, summer will be the ideal time to visit this stunning waterfall. 
If you are a tourist in Kerala you should not miss this place for its natural beauty and the lush green forest.  It is a good place for a day's picnic.   It is a very popular place among the nature lovers, picnickers, photographers, bird watchers and .Adventure enthusiasts.  
There are monkeys in this place, so be careful. Otherwise they are likely to snatch away any eatables you carry with you. 
Apart from the exotic plants and trees which makes up the natural beauty of the place it has an extensive diversity of birds. Athirapally Forest is the natural habitat of different species like Malabar pied hornbill, Malabar grey hornbill, tiger, leopard, bison and lion tailed macaque. 
The above reasons make it an adorable place for the tourists. 
Entry fee - Entry Pass from the Kerala Forest & Wildlife Department. 
Distance from Kochi - about 70 kms
Nearest railway station - Chalakkudy (30 kms)
What Other Places to See Near Athirapally Waterfalls
About 5 kms away you can also visit another beautiful waterfall called Vazhachal Falls located on Valparai road. It is also breathtakingly beautiful site. 
31 kms away is Sholayar Dam.  It the second largest rock Dam in Asia measuring about 20 kms in length. 
Valparai hill station is about 60 kms away.  It is also a scenic place.