Amusement Parks Kerala
Amusement Parks Kerala - There are a number of amusement parks/ theme parks in Kerala. For the locals, these are great places to spend a holiday with their family. Kids love to be here to have great fun.
Veegaland
Located at Kakkanad in Cochin, set on a 30 acre land, Veegaland is India's first water theme park. It offers several irresistible attractions for a total family entertainment. The amusement park stands in a hilly area thus providing a natural setting. There are several mind blogging rides for the kids as well as adults, such as kiddies rides, family rides, water rides, Hair raising rides etc.
Timing and Entry fee: Week days - 10.30 am to 6 p.m. Ticket: Rs. 380/- for adults and Rs.290/- for kids.
Saturdays,Sundays & Holidays : 10.30 am to 7 p.m. Ticket : Rs. 500/- for adults and Rs.380/- for kids.
Special discount for corporates, school, college, senior citizen etc.
For more details http://www.veegaland.com
_______________________________________________________________________
Fantasy Park
Located at Malampuzha, Palakkad, in the lap of the majestic mountain ranges of the Western Ghats, Fantasy Park is one of the famous amusement parks in Kerala.
Dry park, Wet park, Wave Pool, Planetarium are the main attractions there. It would be a great thrill for the kids to plunge down on the towering slides in the Fantasy Park.
Timing and Entry fee: 10 am to 7 p.m Ticket: Rs.300/- for adult, Rs.250/- for children. There are special packages for students.
For more details : http://www.fantasypark.in
_______________________________________________________________________
Silver Storm
Located in Athirapally (Chalakkudi), Silver Storm provides several entertainments and fun for kids. Kids Pool, Super Splash, Wave Pool, Master Blaster,Kiddies Free Fall, Baby Train, Jurassic Splash, Dragon Coaster, Swinging Roller Coaster and Sky Jet are just some the many entertainments there for the whole family to make a wonderful holiday.
Athirapally and Vazhachal water falls are very near to this park.
Facilities in the Park include a restaurant with vegetarian and non-vegetarian food, ice cream etc.for the visitors.
Timing and Entry fee: 10 am to 7.30 pm during seasons. Ticket: Rs.350/- for adult, and Rs.270/- for kids and Rs.180/- for senior citizens. For students: Special package.
Timing: 1 am to 6.30 pm during the off-season.
For more details - http://www.silverstorm.in
______________________________________________________________
Vismaya Kerala
Located in Parassinikadavu, (Kannur) set in 28 acres of land, Vismaya Kerala is rather a new infotainment park in Kerala. This is the first amusement park which runs in cooperative sector. Water rides, amusement for children and informative activities are some of the entertainments there. Adults too can enjoy in the adventurous rides.
More Amusement Parks Kerala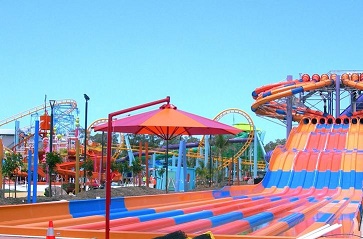 Dream World Water Park - Trissur
Located at Athirappilly Road Kanjirappilly, Dream World Water Park is very popular among locals.  Flying Colombus, Space bowl, Amazon river and the Boomerang are some of the items to try. It also has Kerala's largest 3D theatre. 
Entry fee: Rs.600 (Adult) and Rs.500(Child)
http://dreamworldwaterpark.com/

------------------------------------------------------- 
Happy Land - Thriruvananthapuram 
Located at Kuthirakulam, Vembayam, Happy Land  is very popular among the locals.  Flying fox, Crazy cruise, Challenger and the Uphill water ride are some of the  popular items for family entertainment.  
Entry fee: Rs.470 (Adult) and Rs.350 (Child)
http://happylandtvm.com/

Return to South India Amusement Parks 
Return  to Kerala