Unniappam
A South India Sweet Delight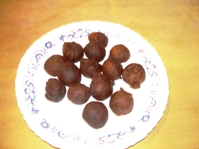 Unniappam Preparation
Ingredients required


1. Rice flour - 2 cups
2. Roasted coconut pieces - 2 tsp.
3. Cut ripe Banana pieces- 3/4 cup
4. Grated jaggery (molasis) - 1 cup
5. Seasame seed - 50 grams
6. Cardamom powder - 1/2 tsp.
7. Soda bicarbonate - 1 pinch
8. Water - 1/2 cup
9. Cooking oil - to fry
10. Special mould (Appakara) to get the proper round shape.
Preparation
Cut the banana and mash it nicely.
Mix rice flour with the roasted coconut pieces, and the mashed banana.
Melt jaggery (molasis) in water and boil till it becomes thick. Add this to the above mixture to make a smooth batter,and add soda bicarbonate, seasame seed, and cardamom powder.
Heat the mould (appakara) and fill the cups with 3/4th oil.
When the oil is heated pour the batter in the cups.
Stir till all the sides turn golden brown.
Remove the cooked unniappams from oil, drain and set aside.