Ullal Beach
Ullal Beach is situated about 12 km away from Mangalore on the south bank of the Nethravati River, facing Arabian Sea. Mangalore is a city of vivid contrasts. Apart from this beach, there are other beaches also in Mangalore.

This beautiful Beach is one of the most famous beaches of Karnataka. It is also the most serene and calm beach in Karnataka. This beach housesthe famous Summer Sands Resorts. Ullal is a fishing village and a very pleasant place.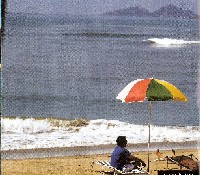 This beach offers a perfect holiday destination for tourists looking for solitude. The casuarinas groves also contribute to its beauty, particularly when the sun sets.
This beach resort, the silvery shore of which command breathtaking views of the sunset, especially, when viewed through the Casuarinas groves, makes this an enchanting vacation for the holidaymakers.
Beach lovers can spend tranquil hours seeking peace in this paradise.
The best time to spend your holidays here is between August to April. 

Attractions at Ullal Beach
No visit to Mangalore would be complete without watching the 'Yakshagana' performance - an elaborate dance-drama form, unique to Karnataka. 
The Kambala (buffalo race) is another exciting event.
Manjunatha Temple, built in the 10th century 

St. Aloysius Chapel, 

Mangala Devi Temple, 

Tipu's Battery 

Jumma Masjid. 

The famous Krishna Temple with the gold chariot, at Udupi, which is 58 kms north.

Bahubali, the 452 ft tall monolithic statue, and 

St. Lawrence Church at Karkala, which is 52 kms north-east of Mangalore.
Accommodation at Ullal Beach
Beach Resort, cottages and restaurants are available.
Return from Ullal Beach to South India Beaches