Pongal Festival
Pongal Festival is one of the major festivals of Tamil Nadu, a state in the southern part of India.

This ancient festival is celebrated with great pomp and show as it is their harvest festival. It is equivalent to the thanksgiving festival of other countries.
This festival is the celebration of showing gratitude to the rain, sun and the farm animals that have helped in the harvest.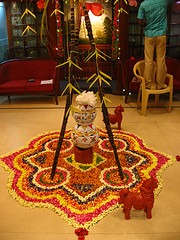 (Image courtesy:  Sowri )
Houses are cleaned thoroughly well before the festival. The people of Tamil Nadu get ready to thank God, Earth and their cattle for the wonderful harvest they have reaped. During the four-day pongal festival, Rangoli is drawn using white and colored powders,in front of the houses early in the morning. They exchange Pongal greetings and gifts between relatives and friends.
In local language Pongal means boiling over. The act of boiling over of milk in the clay pot is considered to denote future prosperity for the family. Pongal festival is celebrated on four days like Bhogi Pongal, Surya Pongal, Maatu Pongal and Kaanu Pongal.
Bhogi Pongal - The first day of Pongal is called Bhogi. According to the legend, on this day Lord Krishna lifted the Govardhan Mountain on his little finger to shelter his people and save them from being washed away by the rains and floods.On this day the old clothes and materials are thrown away and destroyed them by burning them on fire. It is done to show the end of old Thai and to welcome the new Thai. Indran, the Rain God, is worshipped on this day.
Surya Pongal - The second day is the main day and called Pongal. It falls on the first day of the Tamil month Thai, which usually falls in the middle of January. In some parts of Tamil Nadu, it is also known as Sarkarai Pongal or Veetu Pongal. The main ritual of this festival is boiling rice with fresh milk and jaggery in new pots, and allowing it to spill over the vessel. This pongal is later topped with cashew nuts and raisins and offered to Sun during the sunrise, showing gratitude, and later given to all members. This type of boiling over is considered as good fortune for the family. When the milk is boiled all over the vessel, as a tradition, they shout as "Ponggalo Ponggal!" and and a conch is blown, to announce the coming year is going to be blessed with good tidings.
Sweet pongal rice is cooked in a new earthernwear pot at the same place where puja is to be performed. This pot is tied around with fresh turmeric and ginger. Sweet pongal is prepared in this pot with rice, moongdal, jaggery, and with the milk, which is to boiled over. Then it is tempered with cashew nuts and raisins in ghee. Then the sweet pongal is offered to God in a banana leaf, with the traditional delicacies like vadas and payasam.
Pongal Festival Food - Special dishes are prepared for the occasion, such as sweets, vadai, murukku, Khara Pongal,venn pongal, Sweet pongal,Sakkarai Ponga, Medu vada, milk vada, rava kesari, rava payasam, curd rice, vazhakkai podimas, vegetable perattal etc. 


Mattu Pongal - The third day is mattu pongal which is the festival of cattle. Tamilsshow their special gratitude to thecow for giving milk, and the bull for drawing plough in the field. The cattle are washed and their horns are painted, and covered with shining metal caps, and decorated with multi-colored beads, tinkling bells, and respected with flower garlands. They are fed with pongal, and taken out to the village centres. Lord Ganesha and Goddess Parvathi are worshipped on this day.
On Mattu Pongal day, Jallikattu (a bull festival) is also arranged in cities likeMadurai, Tirchirapalli and Tanjavur.
This day is also celebrated as Tamizhar Thirunal.
According to the legend, on this day Lord Shiva asked his bull Basava, to go to the earth and ask the mortals to have an oil massage and bath every day, but only to eat once a month. The bull announced it wrongly saying that everyone should eat daily and to have bath once a month. Lord Shiva was annoyed in the wrong announcement, and cursed his bull Basava to live on the earth forever. He was also entrusted with the duty of ploughing the field to help the people to produce more food.
Then comes Kaanum Pongal, which too is celebrated on the same day. Kaanum Pongal is celebrated by sisters for the welfare of their brothers. The womenfolk assemble in the courtyard of the house. They keep a leaf in the center and rice is placed. Arati is performed on this, seeking blessings for their brothers welfare. In some areas, this day is known as Thiruvalluvar Day. Sun God is worshipped on this day. Freshly cooked sweet dish 'Sarkarai pongal' is first offered to Surya. Sugarcane is offered which is symbolic for sweetness and happiness in life. Sugarcane stalks and coconut are also offered to the Gods for the plentiful harvest in the forthcoming year. They visit their relatives and exchange greetings, and thank God for giving them all good things.
What is called Pongal festival in other parts of India?
In other parts of India, Pongal Festival is celebrated in different names like Bihu, Lohri, Sankranthi and Bhogi.
Return from Pongal Festival to South Indian Festivals