Nithyananda's Caves at Kanhangad
by Eva Bell
(Bangalore)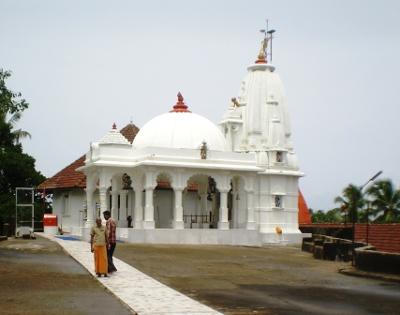 The drive along the west coast from Mangalore to Kanhangad takes about an hour and a half. Thirty years ago, the quickest mode of transport was by train, as it chugged through lush green paddy fields, coconut groves and areca nut plantations. Today, the quickest way to get there is by luxury buses which ply at frequent intervals. The laid back rural atmosphere, with its modest cottages and wayside tea shops, has all but vanished. Now there are huge mansions built with petrodollars from the Gulf, large imposing mosques and innumerable bars. Shops display heavy gold jewellery, sequined saris and outfits in gaudy colours, and the familiar mundus have been replaced by jeans and T-shirts.

At Kanhangad, a taxi took us away from the busy town to a quiet, sequestered village. It was a bumpy ride along narrow tortuous roads meandering through thick forests, before we reached the Nithyananda Ashram.

On the left of the vast courtyard was a high elevation of black rock, its flanks covered by terraced steps that looked difficult to scale. A man in an orange mundu beckoned us towards the main building where we were directed to the entrance of the famous Nithyananda caves.

The façade is like the dome shaped entrance to a prefabricated house. It is painted to resemble the cross section of a watermelon – red with little black spots! There is a flag pole –dwaja shtamba – in front of the door. In one corner, seated with his legs folded, is a large silver sculpture of Swami Nithyananda.

The single small door leads into a labyrinth of dimly lit passages showing 44 dark caves where the swamis used to spend long hours in meditation. I had been here as a child and remembered the shining red oxide floors that reflected the light from little wick lamps in the niches. The cave walls were white washed and clean. Many of them were occupied by ashramites in deep meditation. Now they are in a sorry state and very badly maintained. Water seeps in from the top and hordes of bats have found a secure refuge in this dark and gloomy interior.

From the caves (no photography allowed) we move to the next room where Swamis Nithyananda and Jayananda lived, and spent hours in meditation on their simple cots. Exhibited in this room are linen, crockery, vessels and religious paraphernalia used by the Swamis. On the walls are enlarged photographs of these scantily clad holy men with nothing but their G-strings to hide their modesty.

Adjacent to this room is a small temple built in the name of Jayananda Baba in 1988, by a devotee Mehta Haridas Lokhandwala, who even transported the stones all the way from Bombay.

We move out of this building and mount a few steps on the side of the black terraced rock, where another small neat temple stands. From here one gets an idea of the size of this massive monolith. One wonders how many hours of manual labour it must have taken to create 44 caves in the belly of this rock.

The temple atop the caves is the Nithyananda Bala Mandir. Just in front of the temple is the imprint in marble of the soles of Nithyananda's feet. Usually it is the dorsum of the feet that are sculpted. But here, his soles are embossed on marble.

Bhagwan Nithyananda was an 'Avadooth' with yogic powers. He was one of the greatest yogis of the 20th century and brought solace and peace to millions of devotees. Born at Quilandy in Kerala in 1897, he left home at the age of twelve, and performed tapas in the Himalayas for several years. He them travelled through Burma and Ceylon, and later through Calicut, Tellicherry, Kumbla, Mangalore, Udupi, and performed many miracles en route. He founded many ashrams and bhajan mutts. Perhaps because he travelled so extensively his soles were immortalized in marble.

Bhagwan came to Kanhangad in the early 20th century in his 'Avadooth' state and performed many miracles. People witnessed his 'Divine Lila.' He could tell whether people approaching the ashram were devotees or infidels without even seeing them. He would have unbelievers evicted even before they could enter.

Bhagwan first did his tapas at Guruvanam, five kilometers away from the main ashram. It is on top of a rocky hillock surrounded by 40 acres of dense forest. Through his meditation he created a stream of flowing water considered to be holy, pristine and cold, in which devotees could take a holy dip. (but not anymore.) This is called Papanasini Ganga.

He also created a circle of eight stones called Ashta Siddha. Many Siddhis lived and died here. So Guruvanam is also called 'Thapabhoomi.' Now a small temple has been built close by.

Nithyananda's main ashram was founded in 1931. He lived here for many years and loved the place, calling it a Universe of Spirituality. He envisaged a day when the holy caves would be filled with meditating saints who would usher in a golden age of Dharma.

Later in life he migrated to Ganeshpuri in Bombay and built another ashram there. Here the stream of hot water that never stops is also believed to have originated through his meditations. He died in 1961.

The ashram in Kanhangad runs a Polytechnic and a High School. It feeds sadhus and school children under the Bal Bhojana Scheme.
Poojas are held regularly and are very cheap by current rates.

Swami Jayananda was born in the late twenties at a village called Hejmady. He was Nithyananda's spiritual heir. He came under the spell of this yogi after wandering about for several years. He stayed on as the head of the ashram for five decades and died in 1982.
Now the ashram is run by a trust headed by Ramchandra Khoday who is the chairman.

Though one misses the old spiritual ambience and the large number of disciples who used to meditate in these caves, it is still worth visiting as an architectural marvel.


---
Eva Bell is a medical doctor by profession, and a writer by passion. To know more about her, visit
http://www.evabell.net