Melkote Temple - Cheluvanarayana Swamy Temple
Melkote Temple - Cheluvanarayana Swamy Temple is a  famous temple in Karnataka. It is situated in Mandya district and is over 1000 years old. The temple is dedicated to Lord Vishnu who is worshipped here as Cheluvanarayana Swamy.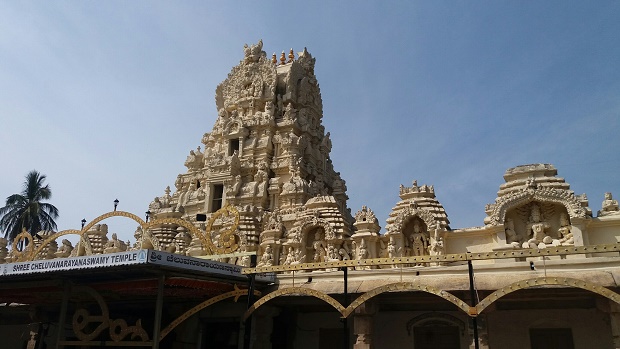 The temple is built in Dravidian style of architecture. The gopuram of the temple adorns a triangular tower. The engravings on the temple and the pillars mention the historical evidence of the temple. The Wodeyar dynasty, the Royals of Mysore, lavishly empowered the temple with most valuable collections of jewels. The crowns, which are presently under the custody of the Government,  are brought to the temple on special occasions.
There is a large pond of stone, in the shape of stepped well, built near the foothills next to the main steps of the temple. 
Timings for Darshan-
7.30 a.m to 1 p.m, 4 to 6 pm  and 7 to 8 p.m
If you are interested to know more about the seva details please check out this site,
Main Festivals of Melkote Temple
Sri Vairamudi Festival - It is one of the most important festivals, celebrated annually in the month of March-April, in the temple, attended by lakhs of people. During this time, the deities are adorned with the jewels and taken out for a procession in the town. The main priest is blindfolded before the crowns are taken out as it is a belief that no one should see the crown until the main deity Thirunarayana is adorned with it.
Sri Rajamudi Utsav - for 10 days
Sri Krishnarajamudi Utsav
Tirunakshtram of Sri Ramanujacharya 
Thuni Thengol and Puliyogare are the main prasadams of this temple. 
Reaching Melkote Temple -
By Air - Bangalore International Airport is 133 kms away. 
By Train - The nearest railway station is Mysore, 53 kms away. 
By Bus - Many government and private buses are available from Bangalore and Mysore. 
Distance from Bangalore is 150 kms and from Mysore 48 kms.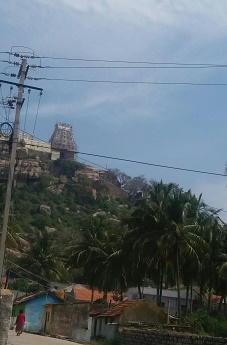 Nearby attractions -
Those who visit this temple can also visit Sri Yoga Narasimhamurthy temple located on the hills.  Transports are available from down (in front of Cheluvanarayana Swamy temple) for the half the way, but  for the remaining half the  distance, the devotees have to walk through the stony steps.
Sri Yoga Narasimha Swamy Temple Darshan timings -
9.30 a.m to 1.30 p.m and 5.30 p.m to 8 p.m
A huge lake is there few kms away from there which is very beautiful. 
Return to Karnataka Temples
Return to South India Temples