Kovalam India Beach
Kovalam India  is situated 16 kms from Thiruvanantapuram, the capital city of Kerala State.  Kovalam India was once a quiet fishing village, but today this beach town on the Arabian Sea, filled with coconut trees that swam gently in the cool breeze, is one of the most sought after destinations in South India, .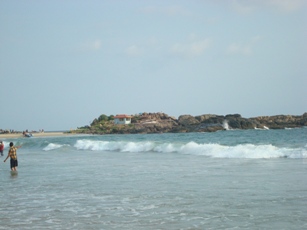 Best Attractions at Kovalam India Beach
The beaches at Kovalam  are divided into 3 parts, the northern beach, middle beach and southern or light house beach.  They are more popularly known as Lighthouse Beach, Hawah Beach and Samudra Beach. The rocks on the silvery sands are those extending into the sea make charming formations from where the mesmerizing view of sun setting and sun rising for the shimmering blues of the ocean can be watched at this beautiful beach town in India. It has been a favourite haunt of tourists since the 1930s.

Samudra Beach does not attract many tourists, and more local fishermen ply their trade here. 
Activities of the beach
The tourists can get involved in water sports, sunbathing and swimming, those who are interested in seeing the historical monuments, can be located in the vicinity of the beach.
Best time to visit
This mesmerizing beach can be visited throughout the year. The best time to visit is October to March and for the ayurvedic treatments from June to December, at the Beach Resorts Kovalam.
Accommodation and Ayurvedic Resorts
Accommodation facilities for tourists at Kovalam range from five star hotels to budget hotels and the choice of food available at restaurants and cafeterias range from Continental varieties to South Indian delicacies.
Somatheeram Ayurveda Resort
The Leela Kempinski
Hotel Jasmine Palace
Greenshore Apartments
Hawah Beach Resort
Golden Sands
Other Beach Resorts
The other places to visit nearby are Vizhinjam, a seaport, is about 3 km away and famous for its special varieties of fish, old Hindu temples, big churches and a mosque.
Reaching there
By Air : Thiruvananthapuram is the nearest Airport, 16 kms away, which is an international Airport.
By Rail
Thiruvananthapuram is the nearest Railway station.
If you want to get more details about this beach you can find it here at Wiki. 
The other places to visit nearby Kovalam beach are the interesting places at Thiruvananthapuram, which is just 16 kms away, where you can visit places like Napier Museum, the Sri Chitra Art Gallery and the Padmanabhaswamy Temple and the SMSM Institute, a State owned handicrafts emporium, to pick up some souvenirs. 
Return to South India Beaches

Return to Home Page 
Where to buy swimsuits -

Shop Swimsuits ForAll.com