Kovalam Beach
Kovalam Beach, situated 16 kms from Thiruvanantapuram, the capital city of Kerala State is one of the most sought after destinations in Kerala, filled with coconut trees that swam gently in the cool breeze.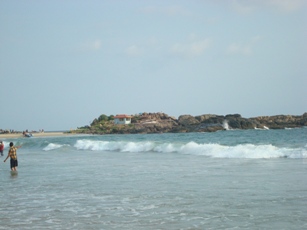 Beach Attractions at Kovalam Thiruvananthapuram
The beaches are divided into 3 parts, the northern beach, middle beach and southern or light house beach. The rocks on the silvery sands are those extending into the sea make charming formations from where the mesmerizing view of sun setting and sun rising for the shimmering blues of the ocean can be watched at Kovalam Beach India.
Activities of the beach
The tourists can get involved in water sports, sunbathing and swimming, those who are interested in seeing the historical monuments, can be located in the vicinity of the beach.
Best time to visit
This mesmerizing beach can be visited throughout the year. The best time to visit is October to March and for the ayurvedic treatments from June to December, at the Beach Resorts Kovalam.
Accommodation and Ayurvedic Resorts
Before booking your accommodation, find the best deal, compare prices, and read what other travelers have to say at TripAdvisor.
The Leela Kempinski Kovalam Beach
Reaching there
By Air : Thiruvananthapuram is the nearest Airport, 16 kms away, which is an international Airport.
By Rail
Thiruvananthapuram is the nearest Railway station.
Return to South India Beaches

Return from Kovalam Beach to Home Page of South India Vacations
Where to buy swimsuits -

Shop Swimsuits ForAll.com