Kappad Beach
Kappad Beach is a beautiful historical beach, located just 16 km from Kozhikode (Calicut) city. Locally it is called Kappakadavu.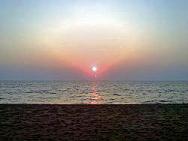 Vasco da Gama, the Portuguese voyager, landed on this Beach with 170 men on 27th May 1498, thus marking a new era in Indian history. This historic event is commemorated by a little stone monument on the beach with an inscription 'Vasco da Gama landed here, Kappakadavu, in the year 1498'.  A visit to Kozhikode is incomplete without a visit to this legendary site.

Attractions at this Beach
The view of the sunset is enchanting at this beach.  

A characteristic feature of this beach is the moss covered rock that protrudes into the sea. 
A Devi temple, believed to be about 800 years old, is situated on the rocks nearby facing the deep sea. This provides an excellent landscape. 

Sitting on the smooth sands of the beach, watching the scattered country fishing boats in the beach, you can feel a total relaxation within you.  
A walk in and around the place gives an idea of its historical relevance.

Ayurvedic health holiday packages are also available in the luxury hotels. 

In spite of increased number of tourists here, the beauty and serenity of the beach is untarnished. 
Activities at Kappad Beach
The beach offers opportunities for sand castle building and other beach activities. 
Those who want to enjoy the local delicacies and tea or cool drinks they are always available at the beach. 
Accommodation
Both luxury and budget accommodations are available here. 
Reaching there -
Kozhikode is the nearest railway station, which is about  35 km, via NH 17
Calicut International Airport is the nearest Airport which is  about 45 km, via NH 17
More information is available here. 
 Return from Kappad Beach to South Indian Beaches