Jackfruit Benefits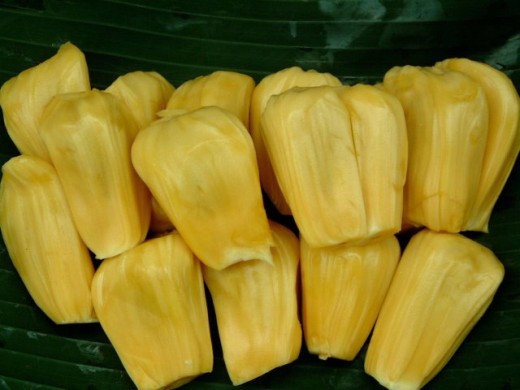 Jackfruit Benefits - Jackfruit is a huge,oval shaped fruit, largely grown in tropical climate. The scientific name for jackfruit is Artocarpus heterophyllus. It is the national fruit of Bangladesh.
It is grown in many parts of India, most parts of Southeast Asia, and also grown in Brazil. Jackfruit is commonly used in South and Southeast Asian cuisines. The tree can grow as high as 60 feet in the suitable climate. Jackfruit is the largest fruit in the world, and can grow as big as 80 pounds. The fleshy part of the fruit and the seeds are used.
Jackfruit Benefits for Health
Many of us eat jackfruit without knowing its health benefits.You may be surprised to know that jackfruit has high nutritious values.

Jackfruit contains several vitamins such as Vitamin A, Vitamin C, thiamin, riboflavin, calcium, potassium, iron, sodium, zinc and niacin.
Jackfruit is a good source of Vitamin C.
Jackfruit has a low caloric content: (100 grams of jackfruit only contains 94 calories.)
Jackfruit is a rich source of potassium. ( 303mg found in 100 grams of jackfruit.)
How to Choose a Ripe Jackfruit?Choose a jackfruit that gives a little with gentle pressure. A ripe jack fruit has a strong pungent odor. If you go closer to it and smell and can't get any smell indicates that it is not yet ripe. There will be a slight change in color too. A ripe jackfruit is greenish yellow in color, and soft in feel when compared to a raw jackfruit.
Other Names of Jackfruit
They are called by different names in different parts of the world.
Telugu: Panasa;

Bengali: Kathal;

Bhojpuri: katahar;

Kannada: Halasina kaayi;

Hindi: Katahal;

Malayalam: Chakka;

Tamil: Palaa

Malay and Indonesian: Nangka;

Portuguese: Jaca;

Sinhala: Kos;

Thai: kanoon;

Vietnamese: mít;

Swahili: finesi
Cutting a Jackfruit
Many people hesitate to use jackfruits for the white sticky substance it contains and they worry about the messy process and thus miss the jackfruit benefits. With a little care, it can be avoided. You can use latex gloves to avoid getting messed up with the sticky material. If the gloves are not readily available, you can even smear some oil on the hands before starting the process of cutting the jackfruit. With a sharp knife, cut the jackfruit in the center and then remove the sticky substance with a thick piece of paper or a cloth. Then remove the top portion, and slowly pluck out the tasty jackfruit plums from it. This is for a ripe jackfruit.For a tender raw jackfruit which is used for making various dishes, remove the outer thorny portion too, and then cut them into pieces.
Recipes with ripen Jackfruit 
Jackfruit can be used to prepare several tasty recipes. Some of the popular dishes made in India using jackfruit are these.
Jackfruit payasam (used as dessert) - also called as chakka payasam locally. It is a delicious desert. (prepared with jackfruit halwa, coconut milk and jaggery as main ingredients).

Jackfruit halwa (prepared with jaggery).
Jackfruit ada - prepared with jackfruit halwa, rice flour and coconut.
Jackfruit appam - prepared with jackfruit halwa, rice flour or wheat flour. Jackfruits can be eaten as they are without cooking.
Recipes with raw jackfruit
Jackfruit chips. - can be used as potato chips.
Jackfruit side dish - can be prepared with coconut and onions.
Jackfruit as main curry for rice.
Aviyal - can be used as one of the many vegetables in the popular aviyal dish.
Recipes with Tender jackfruits
Jackfruit thoran - Tender jackfruits (within the first two weeks time) can be used as thoran for side dish, after removing the prickly skin and the sticky part inside.Jackfruit sambar - The tender fruits can also be used in the sambar along with one or two other vegetables.
Recipes with Jackfruit seeds
Jackfruit seed thoran. Jackfruit main dish with drumstick and raw mango. Jackfruit seeds with bitter melon as side dish. Jackfruit seeds with raw banana as thoran.
As per your imagination, many other recipes can also be prepared with jackfruits.
Howerver you use this, you can get the Jackfruit benefits. 
Back from Jackfruit benefits to Ayurveda Herb