Halebid Karnataka
Halebid Karnataka is a historical place. Just 16 kms away from Belur, lies Halebid in Hassan District of Karnataka.  It is about a distance of 27 kms north-west of Hassan town. This was the flourishing Capital City of Hoyasala rulers. During their time,Halebid was known as Dwarasamudra.
Attractions of Halebid Karnataka
The main attraction of Halebid is the famous Hoyasaleswara Temple situated at the banks of the artificial lake Dwarasamudra, showing the splendor of Hoyasala sculpture, an ancient temple in Karnataka. The twin Shiva temple has a common platform and two garbhagrihas, one beside the other have a common broad navaranga. One of them is Vishnuvardhana Hoysaleshwara Linga and the other Shanthaleshwara Linga.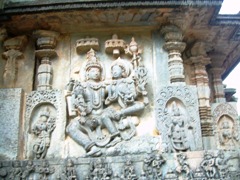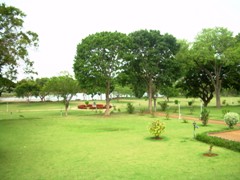 In front of the Hoyasaleswara temple is a mandapa with a huge Nandi image,and behind that is a shrine of Surya with seven horses. Hoysaleshwara and Shanthaleswara temples were built by Ketamala to attributed Vishnuvardhana, the then Hoysala ruler.
The interior and outer walls are adorned with intrinsically carved sculptures of Hindu Gods and Goddesses, sages, birds, animals etc. 
It is said that the temple was started in 1121 AD, and even after 80 years of labour, the work was never completed.  Yet the mesmerizing beauty of the temple is praiseworthy and Halebid,one of the main monuments of Karnataka, is referred as the Gem of Indian Architecture.
There is a big lake in front of these temples.  The town had got its name from the lake, Dhwara samudhra which means entrance from the ocean.
Getting there
Halebid is well connected by road and rail to Bangalore, Mysore and Mangalore.

Check out
Templenet.com
to read more about this temple.
Check out your hotels with Hotelscombined.