Fenugreek Benefits
Fenugreek Benefits - Fenugreek belongs to the family of Fabaceae, Trigonella foenum-graecum L.  Fenugreek has an important role In Ayurvedic medicines.
This herb is known in other names such as Greek Hay Seed, Bird's Foot, Trigonella, Vendaya (Tamil), Methika (Sanskrit), Menthe (Kannada), Uluva (Malayalam), Menthulu (Telugu) etc.
Fenugreek is a small herbal plant widely grown and used in India and Southeast Europe, northern Africa, Egypt, Morocco and the United States. India is the largest producer of fenugreek in the world.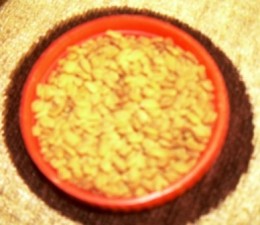 Several Fenugreek Benefits
Fenugreek is an important ingredient of the spices in Indian cooking, especially in South India.  It is used almost every day in dishes like sambar, rasam etc. The leaves are used for making wonderful side dishes. 
In Ayurveda, fenugreek seeds are vata and kapha pacifying and can stimulate pitta, and considered as a natural source of iron, silicon, sodium and thiamine.
The seeds are used for soothing and relaxing inflamed tissues. 
Fenugreek seeds and leaves are used for anticholesterolemic, anti-inflammatory, anti-tumor, carminative, demulcent, deobstruent, emollient, expectorant, febrifuge, galactogogue, hypoglycaemic, laxative, parasiticide, restorative and uterine tonic, and useful in burning sensation.
Fenugreek is also used in menopausal problems such as hot flushes, mood swings etc. 
To increase the production of milk in lactating mothers, fenugreek is found to be effective from earlier days. 
Fenugreek is widely used in treating diabetes as it has quality to reduce the sugar level of the blood. Recent studies have shown that Fenugreek helps lower blood glucose and cholesterol levels. 2 ounces of Fenugreek seeds throughout the day either in the form of sprinkling it on the food or consume it as capsule. 
Fenugreek leaves help prevent wrinkles, blackheads, pimples, dryness and rashes, by applying a paste of the fresh fenugreek leaves on the face.
Fenugreek seeds are mixed with yogurt and used as a conditioner for hair in India.  
Helps in losing weight. The fiber in fenugreek fills the stomach, even when consumed in a little amount. Soak a few fenugreek seeds in water and chew them in the morning, on an empty stomach.
Fenugreek Benefits - Side effects 
Though there are many fenugreek benefits, this herb needs to be used with caution since there are some cases of side effects reported. So it is always better to consult a health care person before using fenugreek, to avoid any problems.
During pregnancy, fenugreek should be used with extreme caution because it may cause blood sugar levels to become too low.
Because fenugreek may lower potassium levels in the blood.
Fenugreek may increase the risk of bleeding when also taken with other products that are believed to increase the risk of bleeding.
Those who are already on some medication should consult a doctor before using fenugreek. 
Inhalation of the fenugreek powder can cause asthma and allergic symptoms in some sensitive people.
Fenugreek is in the same family with peanuts and chickpeas, and may cause an allergic reaction in susceptible individuals.
There are reported cases of gastrointestinal discomfort and nausea, therefore fenugreek should be used with caution.
If you're diabetic, use fenugreek only if you have good control of your blood glucose levels. While taking this, closely monitor your fasting levels and post-prandial (after meals) levels. Mothers with hypoglycemia should also use fenugreek with caution.
Read more about fenugreek benefits and the recipes  
Return from Fenugreek Benefits to Ayurveda