Eravikulam National Park
Eravikulam National Park is one of wettest regions of the world. It gets a rainfall of 4500mm. This breathtakingly beautiful National Park is situated in Devikulam Taluk of Kerala, along the high ranges 
of western coast, stretching an area of 97 sq km, on the border of Kerala and Tamil Nadu in the north where it extends as the Annamalai National Park. 
Latest News
Recently an article is published in Hindustan Times on November 2013 about the endagered animals by Atula Gupta, founder of India's Endangered and Asia editor-in-chief of Jeff Corwin Connect, who recommends 10 spots to visit in India . These are the South Indian Sanctuaries mentioned there  -
Indian Bison in Wayanad National Park in Kerala,  in Karnataka and the Mudumalai - Bandipur reserves.
Asian elephants - The best place is Periyar Wildlife sanctuary 
Nilgiri Tahr - Eravikulam National Park is the best place for this. 
Read the full article here -. .http://www.hindustantimes.com/lifestyle/travel/finding-a-sanctuary/article1-1146591.aspx
The Park exhibits the breathtaking natural splendor of rolling grasslands and exotic flowers. Anamudi, the highest peak of south Himalayas, towers over the sanctuary in majestic pride. The enchanting Munnar Hill Station to this Park is just 15 kms away.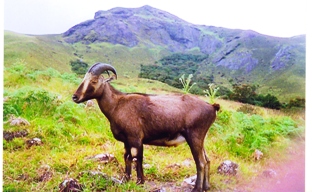 This National Park is also home for Nilgirl Tahr, one of the endagered animals. 
In 1978, it was declared as a National Park . The Park is divided into 3 regions - the core area, the buffer area and the tourism area. Visitors are allowed only to the tourism area which is in the Rajamala region. Trekking facilities are available here.
Reaching There
By Air: The nearest Airport is Cochin, 155 kms away.
By Rail: The nearest Railway Station is Aluva, 114 kms from Munnar
By Road: A motorable road is there up to Rajamalai, the park headquarter. From Rajamalai, one needs to travel on foot for around 18 kms. The distance from the enchanting Munnar Hill Station to this Park is just 17 kms.
Best Season to Visit: October to March


Return from Eravikulam National Park to Wildlife South India