Dhanushkodi
Dhanushkodi is located at the southern tip of Rameswaram Island, on the eastern coast of Tamil Nadu.  It is also the place for the union of two mighty oceans  – Bay of Bengal and Indian Ocean, and is elongated  in shape.  It is also the end of India  and we felt we are at the end  of the earth. To reach there, you have to pass through the amazing Pamban Road Bridge (also known as Annai Indira Gandhi Road Bridge) which is connecting Rameswaram to the mainland. You can see the video of this bridge here. 
As we were driving closer to this place a frightening silence came upon us. However, surprisingly we began to get Simhalese language on our car radio . In the next few minutes, we got a welcoming message on our mobile from Airtel Srilanka. Sri Lanka is just 31 km away from here.
Finally we reached our destination where a solitary pillar of Ashoka, the national emblem of India, stands at endpoint where you can look out across Ram Setu, also called Adam's Bridge. .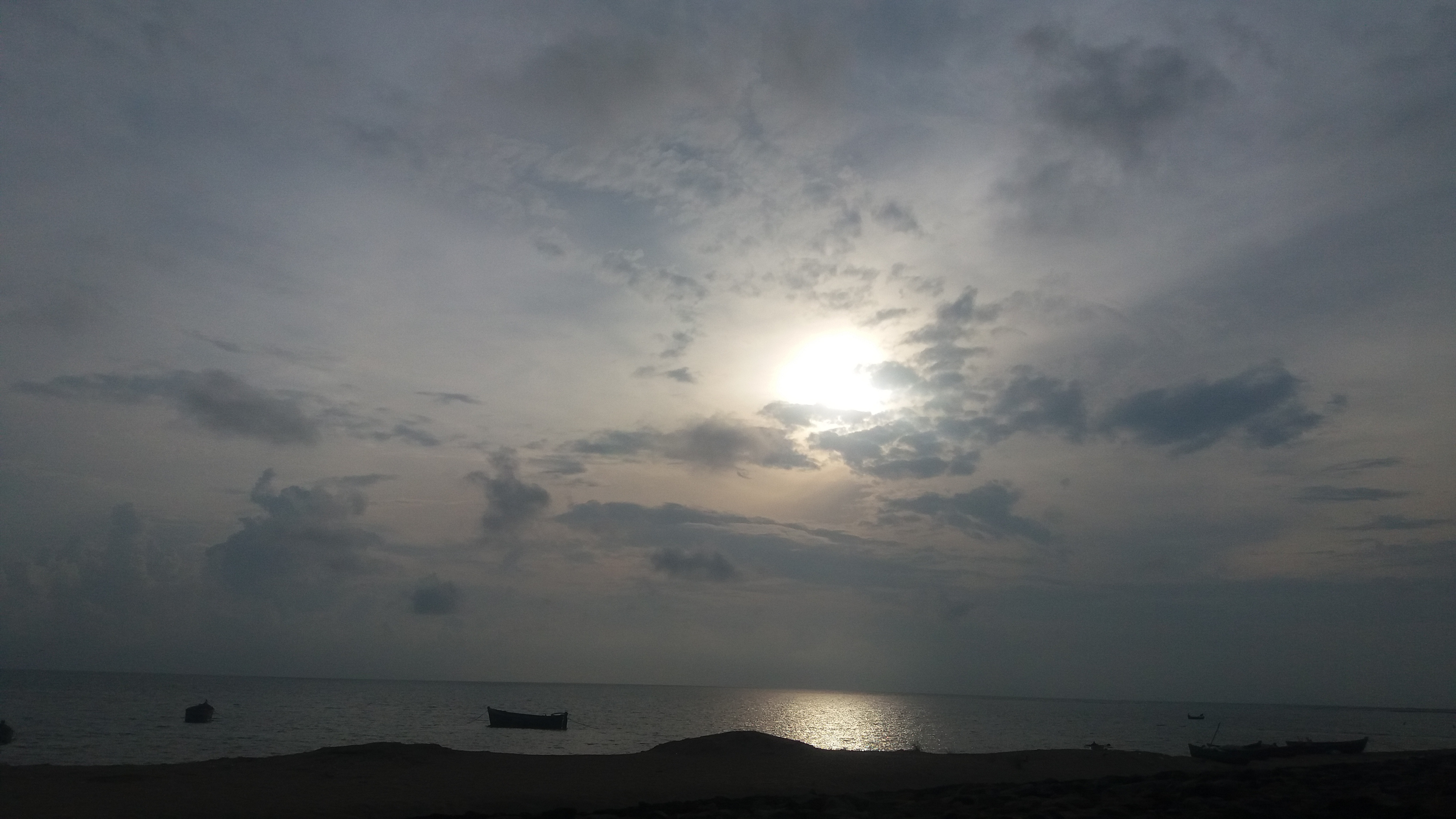 History of Dhanushkodi
 Dhanushkodi had a customs office, railway station, post office, schools, hospital, church, hotels, and shops and it was a flourishing trade hub with Sri Lanka, (then called Ceylon). Today it is an abandoned city, also called as ghost city, with the ruins. There was a ferocious cyclone on the midnight of 22nd December 1964 at  an estimated speed of 280 kilometers (170 miles) per hour which took away the train No.653, Pamban Dhanushkodi Passenger with all its passengers.  Most of them were school children coming home for Christmas vacation. The ill-fated train was coming from Chennai (then called Madras)   which was almost reaching there,  the last stop, with 115 people on board. The cyclone washed away all the passengers and the train itself. Being not satisfied with the destruction it caused,  the ferocious cyclone took away the lives of nearly 2000 people of Dhanushkodi and all the buildings, washing away the whole town..   Since then the Govt of Tamil Nadu declared Dhanushkodi  as a ghost town and unfit for habitation. 
Today it is slowly becoming a tourist spot.  For this, a new road connecting Rameswaram and Dhanushkodi to the land's end is built in 2017. Before that, it was totally cut off from civilization. Now, you can drive there directly in your own vehicle or a rented vehicle.  Reaching there you will be welcomed with spectacular high tides of the blue sea. It is an awesome sight to stand at this point enclosed both the sides by oceans. What you can see there  today are a few scattered buildings with exposed bricks that stand as mute witness to the terrible tragedy which took place in 1964.
Ram Sethu of Dhanushkodi is very popular. According to Hindu mythlogy, this is the bridge which Lord Ram, with the help of Hanuman and his army of monkeys, built a rock bridge from Pamba island to Mannar Island in Sri Lanka, to rescue Sita Devi from the evil clutches of demon king Ravan. It is called Ram Sethu. Lord Ram marked the spot where the bridge was to be built with an end of his bow and this place got the name Dhanushkodi.  The debate about whether the Ram Setu is natural or a man-made bridge has been on for several years. Today we cannot see Ram Sethu from here. It is a submerged chain of limestone shoals.  Surprisingly, this way  is visible from an aerial view even to this day. This historic Bridge is also called Adam's Bridge.  Remnants of the bridge can be seen. 35 km. Nala setu. Civil engineering marvel of an ancient civilisation.  
For accommodation and food, Rameswaram is a good option with good hotels and restaurants.  We stayed in Hotel Rameswaram Grand which is just opposite to the railway station.
Check out the video on Dhanushkodi
 How to reach there
Rameshwaram Railway Station is the closest train station, just 18 kms away.  
The cheapest option is to take the government bus (Route 3) from the bus stop near Agni Theetham in Rameshwaram. The cost of the ticket is Rs.30.
Rameswaram is the nearest city (18 kms) from where you can hire a taxi for Rs 1500 or an autoriksha  for Rs.800/- (for a round trip)
The nearest Airport to Dhanushkodi is Madurai at a distance of 188 km