Dakshina Mookambika Temple 
Located in North Paravur (Ernakulam District), Dakshina Mookambika Temple is an important temple of Kerala.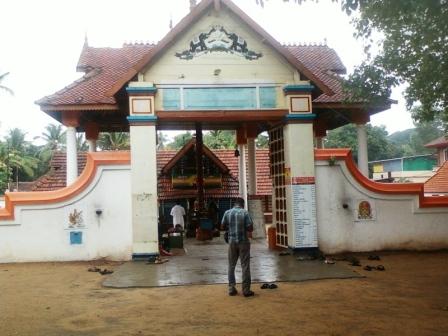 Dakshina Mookambika Temple, Paravur

This is one of the few Saraswathi temples (Goddess of Learning and Arts) in Kerala and is located in the middle of a lotus pond. The other deities of this temple are Ganapathy, Subrahmanya, Mahavishnu, Hanuman and Veerabhadran.
On vidhyarambham day,(Saraswathy puja day) thousands of kids are brought here to get initiated into the world of writing by making them write the word 'Harisree' on rice, their tongues or sand with a golden ring.
Those who cannot come on that day due to personal reasons, even on other ordinary days also vidhyarambham (ezhuthiniruthal) is performed here, on special request.
Legends - Being an ardent devotee of Mookambika Devi, Paravur Thamburan used to visit Kollur every year to pay homage to the goddess. Realising his difficulty in his old age, to visit the goddess far away in Kollur, the goddess appeared in Thamburan's dream and ordered him to build her idol near his palace so that he can have daily darshan of her. As per Her order, a temple was built there and the deity was installed.
The main offerings (Vazhipadu) in this temple are 'Sree Vidhya Manthra Pushphanjali' and Mookambika Kashayam. The Kashayam is prepared traditionally with herbs and is considered as a sacred medicine to enhance wisdom for the kids.
Festivals
Navarathri is the main festival celebrated here. 10-day annual festival is also celebrated here. On Durgashtami day, books are arranged before the image of Goddess Saraswathi. On the morning of Vijayadasami day (last day of Navarathri festival), Vidyarambham (Ezhithiniruthu) ceremony.
In 2012 Vidyarambham is celebrated on Wednesday, 24th October 2012.
Temple timing:
5 am to 11 a.m. and 5 pm to 8 p.m
Return from Dakshina Mookambika Temple to Kerala Temples