Cochin Beach
Cochin Beach is located in Kochi (Cochin). Kochi is one of the finest natural harbours on the Arabian sea coast.
It has been a port of call for foreign traders from early times. Kochi is also a city of peninsulas and islands and today it is Kerala's commercial hub. In Cochin you can find various South Indian handicrafts and aromatic spices for sale. 
This historic town, which was earlier a small fishing village, was shaped into the first European town in India by Portuguese, Dutch and the British.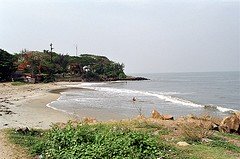 Attractions on Cochin Beach
If you can take a leisure walk along the lanes of Kochi, you can discover the historic Fort Kochi Beach.
-The cultural interfaces is seen in the remains of the Indo-European architecture in Fort Kochi. 
- Cochin Carnival on the New Year eve is a colourful festival.
- South Indian handicrafts and aromatic spices.
- St.Francis Church - one of the oldest churches in India
- Bolghatty Palace 
- Dutch Palace 
- Jewish Synagogue 
Check out Fort Kochi website 
Return from Cochin beach to South Indian Beaches
Accommodation 
There are many luxury and budget type hotels and home stays are available.  Check out the suitable hotels with Booking.com