Carrot Halwa Preparation
Carrot Halwa is a delicious dessert of South India. In north, it is called as Gajjar Ki Halwa. It is a sweet dessert and easy to prepare. When I get carrot in abundance I prepare this delicious sweet and keep at home.

Carrot is rich in vitamins and can be eaten as raw in salads, and cooked as delicious recipes. Carrot contain carotene, a chemical that is converted into vitamin A by the body, it helps prevent night blindness. It has several health benefits, and including this wonder vegetable in your regular vegetable shopping is a great idea. Here, I'm showing how to make a sweet dessert with this bright orange color vegetable.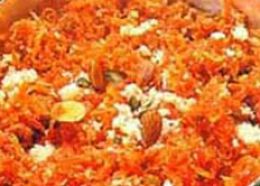 Items required
Carrot - 1/2 kg.
Sugar - 1 cup
Milk - 500 ml
Cashew nuts - 15
Cardom powder - 1/2 tsp
Ghee - 3 table spoon
Wallnuts - 10 (Optional)
Method of Carrot Halwa Preparation
Wash the carrot well and scrape its outer skin.
Grate the carrots preferably in a grater. (If grater is not available use the mixie).
In a heavy bottomed saucepan, add the grated carrots and the milk.
Cook well until the milk gets absorbed into the carrot and it becomes very soft.
Add sugar, cardamom powder, 1 tb.spoon ghee. Keep stirring and see that it doesn't get burnt.
Once it is done transfer to a serving bowl.
In a kadai, add the remaining ghee and fry the cashew nuts and walnuts until semi brown in color.
Pour the fried cashew nuts and walnuts along with the ghee to the halwa and garnish it.

Now your carrot halwa is ready to use. Enjoy the delicious South Indian delight.

P.S: Some people add mawa or milk cream to make it more delicious, and some others use custard milk instead of ordinary milk.