Bidar Attractions

Bidar Attractions - Bidar, in North Karnataka, is an important tourist destination for family friendly vacation. It was the capital of Bahmani rulers in 1424, when Firuz Shah's brother and successor, Ahmed Shah, moved his court here. A number of historical monuments dating back to 15th century, reflecting the glory of Bahamini rulers, can be found here. Some of these Bidar Attractions are -
| | |
| --- | --- |
| | Bidar Fort - It was built by Ahmad Wali Shah in 15th Century. This Fort has five gates with imposing bastions lead into a little town nestling within the ramparts. The fort occupies a promontory that is defended by double rings of walls and a moat partly carved out of the bedrock. In the center of this fort is the old city with its monuments and structures, belonging to the Bahamani era. There are important palaces like Rangeen Mahal, within the ramparts of the fort. The fort is one the largest and strongest forts in India. |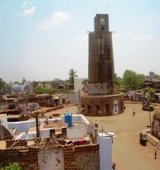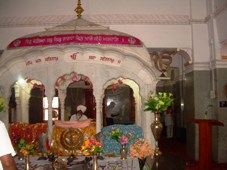 The other places for Bidar attractions are Bahamani Tombs at Ashtur - The outer walls are decorated with tile mosaic art, and the interiors are adorned with well-preserved paintings that are excellent examples of medieval Muslim art.
Bidar Tower Clock - Situated right at the centre of Bidar city is Chowbaara, the 70 feet tower. From the top of the Chaubaara, this cylindrical structure gives a commanding view of the entire city of Bidar.
Narasimha Zara Cave Temple - It is also known as Narasimha Zarna Cave temple, and Jharani Narasimha Temple. The famous cave temple enshrines the powerful deity Lord Narasimha on the wall at the end of a cave,and it is an architectural wonder. It is believed that the shrine at Narasimha Jheera Cave Temple is a swayambu (self-manifested) roopam. A perennial stream of water is said to be flowing continuously for hundreds of years in this place. It is a thrilling experience to walk through waist deep water for 300 meters through a cave-like tunnel, to seek a view of Lord Narasimha.(see last picture) It is one of the main attractions of Bidar. A travelogue - A Cool Morning at Narasimha Jhira Cave Temple, Bidar

Gurudwara and Nanak Zara
Another great Bidar attraction is Gurudwara, at the hill foot of Bidar. Gurudwara Nanak Jhira Sahib, Bidar is dedicated to the first Sikh Guru Nanak Devji. It is believed that Guru Nanak - the first guru of the Sikhs visited this place and got rid of the scarcity of drinking water in the region. It includes Darbar Sahib with an exquisite palanquin made up of marble, Diwan Hall and Langar Hall. There is a separate rest room for Guru Granth Sahib known as Sukhaasan Room and a Likhari room. A stream of sweet water flows from inside the hill. Gurudwara Nanak Jhira Sahib, Bidar is a very sacred place and offers peace and wisdom to all its visitors.
Papa nashini (Shiva Temple)
It is said that one can see snakes guarding the idol especially during Shivarathri festival (celebrated sometime around February).
Madarasa of Mahmud Gawan: It is one of the oldest universities (built in 1472,) which was founded by by Khwaja Mohammad Gawan, the Prime Minister during the reign of Bahamani ruler Muhammad-III. This university was once a renowned centre of learning in the Muslim world for the scholars of Persian, Arabic, philosophy, theology and mathematics.
Reaching There
By Air: The nearest airport is Begumpet international airport (Hyderabad)(just 120 km)
By Rail: Bidar is connected by well maintained rail network running to Hyderabad and Bangalore. One can also travel to Gulbarga city from where take a bus to reach Bidar within one and half hours.
By Road: Regular luxury buses run from Bangalore via Hyderabad on NH 7 and NH 9; the journey takes nearly 16 hours.
Did you like this page? If so, please don't forget to like our Facebook page on the right side.


Return from Bidar attractions to Karnataka