Bhadrachalam Temple
Bhadrachalam Temple is a famous temple in Andhra Pradesh. It is located on a hillockon the banks of  River Godavari in Khammam District, and is the abode of Lord Rama.
According to legends, Lord Rama is said to have crossed the mighty River Godavari enroute Sri Lanka  to rescue  his wife Sita from the hands of wicked Ravana, at the spot where the Bhadrachalam temple stands. It is also believed that Lord Rama stayed with his wife and brother Lakshmana at Parnashala, which is about 35 kms from Bhadrachalam.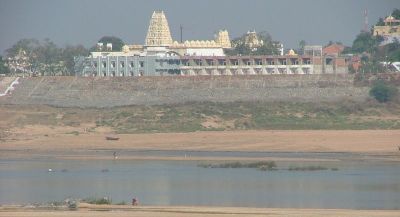 (Photo courtesy: Wikipedia)

The uniqueness of this temple is that the idol of Lord Rama has a bow in one hand along with Shanku and Chakra, amalgamation of two avatars - Vishnu and Rama. Thousands of devotees are attracted to this temple from all over the world.

The Vimanam, and the Mandapams within are of exquisite craftmanship. Thistemple is associated with Bhadrachala Ramadas an ardent devotee of Rama.Bhadrachalam gets its name from the ardent Rama Bhakta, who was the son of the mountain Meru and his wife, born after several years of penance.
Timings : The Temple is open from 5:30 am till 12:00 in the noon and reopens at 4:00 pm till at 8:00 pm.
Main Festivals of Bhadrachalam Temple

Vykuntha Ekadashi, celebrated during December-January, is a 10-day festival. On Dasami Day the colorful boat festivalcalled "Teppotsavam" is a special attraction to the devotees. The deities of Rama and Sita will be taken intorounds in the holy river Godavari in a well decorated "Hamsavahana" amidst crackers and illuminations. On the auspicious Vaikuntha Ekadasi Day at 5 a.m. the Vykuntha Dwarams at the Northern gate will be opened up to the devotees for darshan. This festival attracts lakhs of pilgrims.
Sri Rama Navami Brahmotsavam. This grand festival is celebrated in March-April on every Chaitra Shuddha Navami day of the auspicious Punarvasu on the birth star of Lord Rama. During this occassion, the Kalyanamahotsavam of Sri Rama with his consort Sita is celebrated with great pomp and show. This festival programme is broadcasted by All India Radio and telecast through Doorshan on the festive day from 10 a.m. 
to 12 noon.
Other Places of Interest near Bhadrachalam Temple
Parnasala - 35 kms away from here, is said to be the place where Rama with his wife and brother, lived in exile.
Ushnagundam - A hot water spring, is 6 kms away.
Sabari - 60 kms away where Sabari joined the River Godavari.
Reaching There
By Air: Viayawada airport( 241 km) Hyderabad (325 kms) 
By Rail: Ramachandra Road (40 kms) 
By Road: - Roads are excellent to drive and bus services are also available.
More details of Bhadrachalam temple