Kerala Destination Wayanad
Kerala destination Wayanad, is one of the districts of Kerala. It is known for picturesque mist-clad hill stations, sprawling spice plantations, luxuriant forests and rich cultural traditions. Wayanad is nestled among the mountains of western ghat and is located at a distance of 76 km from the nearest sea-shore of Kozhikode. 
Many South Indian tourist centers lie around Wayanad. 
As you reach Wayanad, you can see large tea estates on one side and thick rain forests on the other. A lot of waterfalls and scenic spots are also there. Wayand is breathtakingly green and beautiful.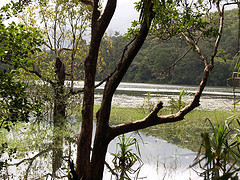 Places to visit at
Kerala Destination Wayanad
Pookode Lake – Located 15 kms form Kalpatta, Pookode Lake is surrounded by greenery on all sides. Facilities are available for boating, children's park and aquarium etc.
Edakkal Caves – Located 21 kms from Kalpatta, Edakkal Caves are situated at Ambukutthi Hills at a height of 4000 ft. This is one of the oldest historical monuments with ancient cave paintings. The actual entrance to the caves is just 5 feet by four.
Though it looks like a cave it is basically a rock shelter formed by two huge rocks on either side and a huge boulder forming something like a roof resting on them. Inside you can find human and animal figures engraved from floor level to roof. 
Chembra Hill - Located 17 kms from Kalpatta, Chembra Hill is 2,100 m above sea level and is the biggest mountain range in Wayanad. 
Soochippara Waterfalls-  A beautiful spot, wondering whether the nature is competing with herself. The 200 m fall is just 22 km from Kalpatta.
Meenmutty Falls-  Located 29 kms from Kalpatta through Vaduvanchal route, these falls are famous.
Kaduvakkuzhi (Tiger Valley) – This is a paradise for adventure seekers and trekkers and is located 26 km from Kalpatta at Cheengeri Hills. 
Bathery Jain Temple– This ancient temple, famous for its architecture, is located 25 km from Kalpatta. 
Kuruva Islands (Kuruvadweep) – Situated 40 kms from Kalpatta. The River Kabini flows through the middle of 950 acres of ever green forests forms estuaries leading to the island.
Bird Sanctuary – It is another great attraction of Kerala destination Wynad, located 71 kms from Kalpatta, hundreds of different varieties of birds, herbs and plants are housed here. 
Thirunelli Temple – This is a major Hindu temple located 64 kms from Kalpatta, and is famous for conducting funeral rites. 
Karapuzha Dam – This entire Dam is built of mud, located 14 km from Kalpatta.
Muthanga Wildlife Sanctuary – This is famous for elephants and other wild animals. This is situated 38 kms from Kalpatta.  Also seen are varieties of land and water birds. 
Reaching there
Calicut is the closest airport (100 kms) and Calicut is the nearest railway station. 

Photo courtesy: Dhruvaraj
Return from Kerala destination Wayanad to Home Page
Accommodation
Punchavayal House 
P.O. Kayakunnu, Wayanad 670721

Agraharam Cottages               Kolidar RdThirunelli Temple PO, Wayanad 67064

Annapara Home Stay Vythiri, Wayanad 673576

Edakkad, Kenichira P.O, 
Wayanad 673596

Aranyakam 
Valathoor, Rippon, 
Mepadi, Wayanad 673 577

Vellamunda, Pulinjal, Wayanad 670731

Kuzhivayal Estate,
Thrikkaipetta, Wayanad 673577