Tapioca and Fish Curry
Kappa Meen curry
Tapioca Fish curry is a great combination of Kerala cuisine. Locally, it is called as Kappa and Meen.

Items required
Tapioca (Kappa) 500 g
Green chillies 4 Nos.
Salt 1 tsp
Cooking oil 1 tbsp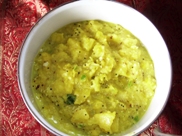 For Masala
Coconut scrappings 2 cups
Turmeric powder 1/2 tsp
Red chilly powder 1 tsp
Garlics 1 clove

For Seasoning
Mustard seeds 1 tsp
Cummin seeds 1/2 tsp.
Onion sliced 1 tbsp.
Curry leaves 1 bunch

Preparation
Peel out the thick skin of tapioca and clean it well. Cut into small pieces.
Pressure cook the tapioca pieces in 3 cups water, for about 10 minutes, and then drain the water.
Heat one tbps. oil in a frying pan. Add the mustard seeds. When it splutters, add cummin seeds, onion pieces, curry leaves, and green chillies (cut in lengthwise).
Add cooked tapioca and stir well.
Crush the masala above and then add it to the curry.
Mix altogether and stir well.
Cook in slow heat for about 8 minutes and remove from the fire.

This tapioca dish can be eaten alone, but with Fish curry it tastes yummy.