Puttaparthy
Puttaparthy is a small village in Ananthapur District of Andhra Pradesh in South India. This little village of Puttaparthi is a famous township now.
It is nationally and internationally a well known place because of the glory of Bhagvan Shri Sathya Sai Baba and his abode of "Prasanthi Nilayam" (abode of highest peace). It also houses a huge 'Darshan Hall', where Baba meets his devotees.
Sai Baba gives religious discourse to the devotees to make strong foundations of life based on truth, righteousness, peace, universal love and non-violence. His followers consider him to be a reincarnation of the saint Sai Baba of Shirdi. Baba interacts with all His followers on a personal level.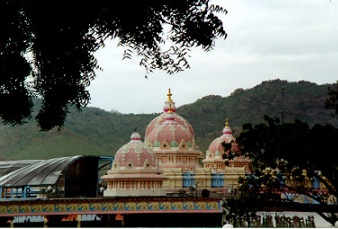 The devotees of Bhagvan Shri Sathya Sai Baba come here from all over the world to have a darshan of him and seek his blessings. As a result, Puttaparthi has an airport and a super speciality hospital for the service of the people.
Puttaparthi is the destination for thousands of spiritual aspirants of many cultures, faiths, races, languages and socio-economic strata from all over the world.
Other Attractions in Puttaparthi
Museum

Shiva Temple

Chitravati River

Kalpavruksha

Sri Sathya Sai Institute of Higher Medical Sciences - a super speciality hospital

Subramanya Mandir

Gayathri Mandir

Dharma Stupa

Planetarium

Hanuman temple
Reaching There
By Air Puttaparthi has an airport. Bangalore International Airport is just 125 kms away.
By Train Puttaparthi has a Railway station which has regular services to Bangalore, New Delhi, Hyderabad, and other important places.
By Bus Regular bus services are available to cities like Bangalore, Mumbai, Mysore, Chennai etc.