Kozhukattai Recipe
Usually Kozhukattai Recipe is a sweet South Indian dish, made with jaggery and coconut, and used as snacks. But this recipe is for a tasty and mouth-watering breakfast.
Items required
1) Rice flour - 2 cups
Salt - As required
Hot water - 2 cups (as per your requirement)
2) Cooking oil - 2 tbs sp
Mustard - 1 tbs.sp
Curry leaf - 1 bunch
Green chilly - 2
Coriander chopped - 1 tbsp.
Urad dal - 1 tb sp.
Coconut scrapings - 2 cups

How to prepare Kozhukattai for Breakfast
1) Mix the rice flour with salt in the hot water. Use a spoon for mixing it well as the flour now will be hot, and make the dough.
2) Make oval shaped balls, and keep aside.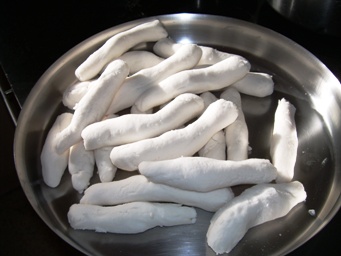 Kozhukattai under Preparation
3) When the whole dough is made into oval shaped balls keep them in a idli cooker and steam it for 10 mts just like the idlis are cooked, and then remove from the stove.
4) Once the kozhukattai are cooled remove from the idli maker and cut them into small pieces.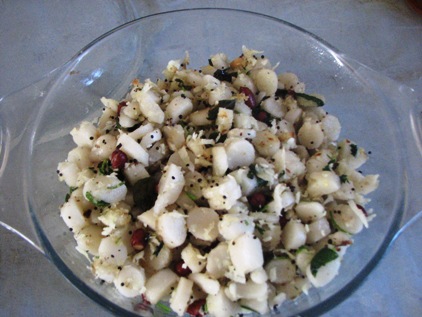 Kozhukattai ready for Breakfast
5) Keep a pan on the stove and pour 2 tbs. oil. Add mustard seeds, urad dal, green chillies and curry leaves. Then add the coconut scrapings and mix well.
6) Add the kozhukattai pieces and stir it well on the lowest flame, for about 5-8 minutes.
7) Add the chopped coriander leaves on top.
Now your kozhukattai are ready for a delicious breakfast. You can sprinkle 1 tsp sugar on them, if needed.