Kerala Ayurvedic Resorts
Kerala Ayurvedic Resorts - Ayurveda is the science of life and longevity and harmony of body, mind and soul. It is the oldest healthcare system of the world since it was sprouted in India more than 5000 years ago. In Kerala, it still remains as an important system of medicine, not as an alternative.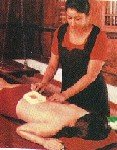 Kerala's equable climate, natural abundance of forests with the medicinal plants and the cool Monsoon season are best suited for ayurveda treatment in India. Both domestic and international visitors come to Kerala to take the advantage of this system of medicine from well qualified and well experienced ayurveda physicians. 
Kerala has many Ayurvedic Resorts which are dedicated to the Ayurvedic principle of holistic health and the restoration of total health in South India. If you are visiting Kerala for ayurvedic treatment you can check out the following list. 
Some Popular Kerala Ayurvedic Resorts
P.N.Ayurvedasramam is a 'Traditional Ayurveda Heritage' on 3 acres of land in a village with rustic nature, calm, serene and sublime atmospheric conditions.
Ideal Ayurvedic Resort
Ideal Ayurvedic Resort is located in Chowara Beach Village, Chowara P. O in Thiruvanantapuram. Many ayurvedic conditions are treated by them.
Somatheeram Resorts
Somatheeram, the world's first Ayurvedic resort, is one of the best tourism spots in Kerala, India. Located at Chowara Beach on a hillock 9 km south of the famous Kovalam Beach, Trivandrum, Kerala with over 15 acres of greenery all around.
Kumarakom Lake Resort
Kumarakom Lake Resort is one of the most sought-after Kerala resorts. It is located in the north of Kumarakom in Kottayam. The distance from Kottayam Railway station is just 15 kms and from Cochin International Airport is just 100 kms.
Travancore Heritage Resort
This seaside ayurveda resort is located in 15 acres of plush green area, 24 kms away from Thiruvanantapuram in Chowara. It offers the best of modern facilities and Indian hospitality.
Marari Beach, Mararikulam
The Marari Beach Mararikulam near Alappuzha is spread out to 25 acres of lush green area, with modern comforts and unrivalled services, located 88 kms away from Cochin International Airport.
Spice Village, Thekkady
The Spice Village, spread out to 8 acres of landscaped area with opportunities for outdoor activities like jungle safaris, camping and trekking, is located 190 km away from Cochin International Airport. 
Apart from the above resorts, there are several places in Kerala where ayurvedic treatments are available. 
For more information, please visit keralatourism.org
Return from Kerala Ayurvedic Resorts to Kerala Destinations