Sri Mata Amritanandamayi
Popularly known as Amma, India's Hugging Saint
Sri Mata Amritananadamayi, lovingly known as Amma, is the embodiment of universal love. She is an Indian spiritual leader revered as a saint by her followers. She is widely respected for her humanitarian activities. Without getting married, without giving birth, She has become known as the Mother of all.
Earlier Life
She was born with a beaming smile on her face, in a poor fishing village of Parayakadavu in Kollam, Kerala, Southern India, in September 1953. Her parents named her as Sudhamani, and she had only primary education. From a very early age, Sudhamani was drawn to spirituality and wanted to reach out, to comfort and uplift those who were in pain. People soon began to notice the extraoridinary and unconditional love that she radiated towards everyone who came to her.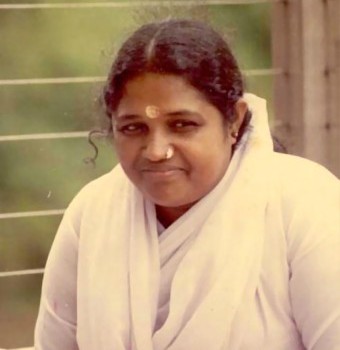 Her spiritual work
In 1975, during a religious reading in the neighborhood, Sudhamani had a vision and showed her 'Krishna Bhava'. Gradually, she started a small seaside ashram at Vallikkavu, which is now grown and known as Amritanandamayi Math, and began to be known as Amma by her followers. In 1981, Amma's first spiritual center was established in Amritapuri, Kerala. In 1987, Amma first traveled to the United States and subsequently her followers came from many parts of the world like Canada, Europe, Middle East, Asia, Australia and Africa. She is also known as "hugging saint" by the people. The people who come for a darshan of her are from all walks of life and from all religious backgrounds. Whatever number of people come to her, she will not leave until she has hugged all who seek her embrace.
Amma says, "Compassion to the poor and the needy is our duty to God." These are not mere words. Through her own life, Amma has inspired people from all over the world to walk in the path of selfless-service and compassion towards all beings.
Amma is the founder of the Mata Amritanandamayi Mission Trust, which carries out various kinds of philanthropic activities. She has a huge number of followers not only in India, but also in many parts of the world. The Indian saint embraces all the people who come to meet her and at free public gatherings, known as "darshan" - young, old, rich, poor, men, women - all people. During her visits abroad, she would conduct series of public programs and retreats, and hug thousands of her followers.
Amma's humanitarian activities include-
Cultural and spiritual
Healthcare
Social Welfare
Nature care
Education, and
Disaster Relief

Amrita Institute of Medical Sciences in Edapally, Cochin is a world famous Hospital, where the poor could receive the very best medical care possible from highly skilled physicians and nurses, and in an atmosphere of love andcompassion.

Recognitions

In 1993, Amma was one of the three people who represented Hinduism at the Parliament of the World's Religions in Chicago.

In 2000 ,Amma was a keynote speaker at the Millennium World Peace Summit, UN General Assembly, New York

In 2002, she was invited as the central speaker at The Global Peace Initiative of Women Religious and Spiritual Leaders, held in Geneva.

In 2002, Amritanandamayi won the Gandhi- King Award for Non-violence.

Mata Amritanandamayi (Amma) has become the Spiritual Master — the centre of the universe, the life force, the guiding light — for millions. The small village between the backwaters and the Arabian Sea, where she was born, has become the centre of a silent spiritual revolution now.

Amma's Birthday on September 27th

Amma's official websites Amritapuri.org and - Amma.org.